Adding extra comfort is becoming more simple than ever. A heated hoodie or sweatshirt will protect you from getting cold and enable you to never fear cold again.
Heated clothing is one of the best ways I have found to keep myself warm. I'm sure you will come to the same conclusion after trying one of these heated hoodies. They come in various shapes and sizes. Therefore, you will undoubtedly find something that suits your taste and budget.
In case you need help with choosing the best heated hoodies or sweatshirts, make sure to check out the buyer's guide below.
Let's see which electric hoodies are my top picks for this season.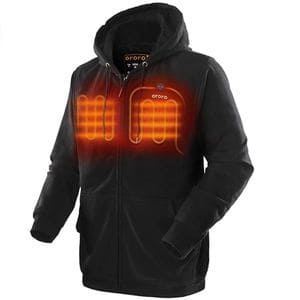 PROS
Stylish;

Comes in two colors – Black/ Grey;

Fleece lining;

Not too expensive;

Interchangeable charger ports;

UL certified safe.
CONS
Sizing runs large;

Not wind or waterproof.
If you are familiar with other heated gear, it is likely you know Ororo. It is a well-known heated clothing manufacturer that makes amazing electric vests and other battery-powered clothing. Speaking about best heated hoodies, Ororo's heated unisex hoodie is an awesome choice.
It is made of polyester and cotton, providing a good balance of breathability and comfort. A fleece lining of this heated hoodie ensures that heat stays inside. Most importantly, it has heating elements right where you need them the most – across both sides of the chest and mid-back. You can adjust the heat with a push of a button.
Features
Up to 10 hours of heat;
3 heat settings;
At least 50 cycles of machine-wash;
Heat control button on the front;
USB port;
3 heating elements (both sides of chest and mid-back);
Made from 44% cotton and 56% polyester.
Our score: 4.9/5
---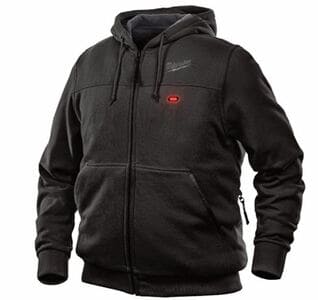 PROS
Comes in 3 colors;

Very sturdy;

Washer and dryer safe;

Full range of movement.
CONS
Pricey;

Up to 6 hours of performance;

Battery and charger not included;

Comes in one color.
Milwaukee is a known tool manufacturer that is also specializing in heated clothing. This Milwaukee heated sweatshirt is the best choice if you will be using it in harsh conditions. M12 heated hoodie is very durable and can withstand hard usage. Therefore, it is perfect for working conditions.
Compared to other heated hoodies, this model has a more efficient heat trap technology. A waffle weave interior lining in combination with carbon fiber heating elements ensure the best heat performance and comfort. However, this sweatshirt provides a slightly shorter heating experience. The battery can last for up to 6 hours
Given the quality of the materials and heating elements, it's no wonder that Milwaukee's heated hoodie costs more than most other models. However, it is more flexible, lightweight, and more efficient. So definitely consider investing more to get more.
Features
4 heating panels – both sides of mid-back and chest;
Made from strong, light, and sturdy materials;
3 heat settings lasting from 2 to 6 hours;
Weighs 3.09 pounds;
Waffle weave interior lining for heat efficiency.
Our score: 4.8/5
---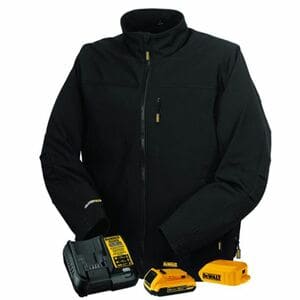 PROS
Very warm;

Wind and waterproof materials;

3 heat settings;

Comfortable with a great range of movement;

Has heating panels on arms.
CONS
A bulky battery that might get in the way of comfortable working.
It would be fair to compare this Dewalt heated sweatshirt to the Milwaukee heated sweater I talked about before. Dewalt is also a tool company that specializes in quality gear for professional workers. You can expect durability and mobility of this heated hoodie. It is made to withstand any conditions and serve you no matter what.
This heated hoodie can last for up to 7 hours on the lowest heat setting. That is one hour more than Milwaukee's heated hoodie. Furthermore, this heated sweatshirt is very warm and comfortable. The only reason why it didn't make it to the first or the second place on this list is because of its battery. It is very bulky and can be uncomfortable when sitting. However, you can choose from two spots to place the battery.
What sets this product apart from others is its heat panels on the arms. This is an extra step that most other hoodies don't have.
Features
3 heat settings for full control and adaptability;
Great heating coverage with 3 large heating panels;
USB port for phone charging if necessary;
Windproof and waterproof.
Our score: 4.6/5
---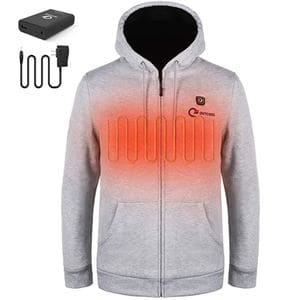 PROS
Machine washable;

Battery included;

Great price performance;

Made from soft materials.
CONS
Sizing runs small;

Not waterproof;

Comes in one color.
This unisex battery powered hoodie is a versatile option that will work for various occasions. One of the best things about it is its price performance. Despite coming at an affordable price, it is made from quality materials that look great. Made of 100% cotton, it is as soft as they get. The zippers on this sweater feel durable and won't break easily. Furthermore, it is machine-washable for a more convenient everyday use. It makes things a lot easier when you don't have to hand wash the hoodie every time it gets dirty.
The power bank included in the set can last for up to 12 hours. You can select three different heat outputs with a simple push of a button.
Features
3 heat zones;
3 temperature settings (color coded);
Windproof;
Up to 12 hours of heat.
Our score: 4.6/5
---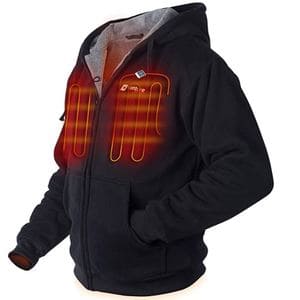 PROS
Comes in three colors;

Machine washable;

Price availability;

Fleece lining;

Built in flashlight in the battery pack;

Double layered heated hoodie.
CONS
Sizing runs large;

Not wind or waterproof;

Pockets are not heated.
This heated hoodie by Venture Heat is a very versatile and comfortable hoodie. You can wear it anywhere – skiing, hunting, walking, and any other activity. What I like about this heated sweatshirt is its dual layer fleece lining. It traps the produced heat inside the sweater and allows you to get the maximum heat from its heating panels. Like with most other hoodies on this list, you can choose from 3 heat settings. As usual, the heating panels heat your back and both sides of your chest.
This might be one of the most powerful heated hoodies on this list. It can last for up to 12 hours on the lowest heat setting. This is a great feature if you are looking to spend long hours outdoors without having the chance to recharge your batteries.
Features
3 heat settings;
Heats up to 131°F (55°C) on the highest setting;
Very warm fleece lining;
Comes with a power bank you can use for other occasions as well;
Can withstand more than 50 machine wash cycles;
Dryer safe.
Our score: 4.5/5
---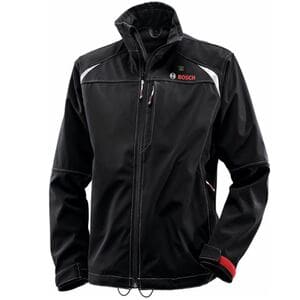 PROS
Quick warming;

USB compatible;

Guaranteed durability;

Wind and waterproof;

Has many pockets.
CONS
Similarly to Milwaukee and Dewalt, Bosch is a well known tool manufacturer. Apart from their specialty products, they have made this heated product. As one might expect, it is very high quality. Made from sturdy materials, it will serve you for a long time. The only reason why I didn't rate this product higher is because of its price. Compared to other products in the same category and of similar quality, Bosch's jacket is quite expensive. However, if you don't mind investing in quality gear, then this might be the best choice for you.
What I like about this heated hoodie the most is its sturdiness and many pockets to store your stuff in. It is also wind and water resistant so you can wear it in any weather. The heating panels will heat your back and both sides of your chest. The quick warming technology allows you to get warm within seconds.
Features
Three heat levels;
Quick warming technology;
USB compatible charging of other devices;
Battery has a belt clip for a more convenient use;
Up to 6 hours of heat.
Our score: 4.5/5
---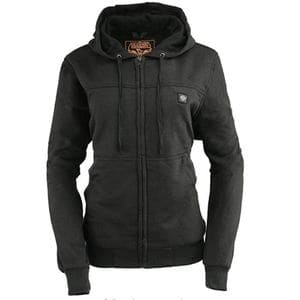 PROS
Comes in 2 colors;

Made from breathable cotton;

Knit cuff and waistband;

Battery and charger included.
CONS
Milwaukee Leather is not the same company as Milwaukee. Many people get confused about this and expect to get the Milwaukee original heated gear. Nevertheless, this heated womens sweater has some great features to offer. It is one of the rare battery heated hoodies that is made to fit a womens body. If you are a woman looking to keep your shape apparent, this is a great choice.
The hoodie is made from cotton and it comes in two colors – black and grey. It also comes in 9 different sizes that is a great advantage. However, the hoodie is smaller than you would expect from a given size. So it's best to get one size up.
Features
3 heat settings;
Up to 7 hours of heat;
Heats up to 120°F (49°C) on the highest setting;
Convenient zipper battery holding pocket on the inside;
Knit cuffs and waist for a better seal.
Our score: 4.3/5
---
What to look for in a heated hoodie?
Heated hoodies are great for people who are struggling with keeping warm during cold days. You can wear it while:
Skiing/ Snowboarding;
Walking;
Running;
Working;
Or doing any other cold weather activity.
Quality heated garments such as sweatshirts, gloves that warm up, and other heated accessories should last long and serve you well. There are a couple of things to consider to get the best performance for an appropriate price. To save your time, I have done the research for you and listed the best heated hoodies on the market in this article. Now, let's see what was the criteria that helped me to choose the best heated sweatshirts.
Quality
First and foremost, you should know that the price doesn't always represent the quality of a heated item. Some heated gear manufacturers have built a trustworthy brand that you can rely on. They use quality materials and don't skip any safety checking. While other brands ride on the hype and earn big money by selling poor quality gear. This is the reason why you should always check the reviews from buyers if the manufacturer is unknown to you.
Battery pack
One of the most important things to look for is a powerful power source. Most heated hoodies and sweatshirts come with a rechargeable battery pack. Moreover, most of them are versatile and you can use them for charging your phone or other USB compatible devices. That can be a very useful feature to have. If this is important to you, make sure that the item has a USB port to support other devices.
Heat output and hours
Depending on the battery capacity, quality and type, the heating performances can vary significantly. Moreover, the temperatures that the hoodies can reach are also different. This information is usually provided in the heated hoodie description.
Most heated hoodies will reach a maximum of 131°F (55°C). However, this can vary depending on the brand.
Materials used
Another thing to consider is the materials used. You want to look for a breathable and soft material that can also trap the produced heat for maximum efficiency. In my opinion, the best combination is a cotton outer layer with fleece lining. This is a very warm and comfortable material combination.
If you are looking for a waterproof option, you should really consider heated jackets. Most of them have a membrane that protects you from rain and wind. However, hoodies might be a more comfortable option depending on your preferences.
Fit
When choosing a heated hoodie, always check if the manufacturer has included a size guide. Some items don't match the regular sizing you are used to. This might also vary depending on the manufacturer's origin country and the design of the sweatshirt.
Having the right size will allow a maximum efficiency and comfort. A larger hoodie will allow more air circulation. This means that the generated heat can escape and you won't feel as warm. If you are not sure about the size, I would suggest that you choose a heated hoodie one size larger that usual. It is better to have a loose hoodie than being stuck with a sweatshirt that doesn't fit.
Style
Most heated hoodies can be activated through a push of a button. It is usually located on the chest and may have light indication of the selected heat level. Some people don't like the attention that it can attain. If you are one of them, look for a hoodie that has a concealed button or one that doesn't have light indicators.
If you want to go hunting with your heated hoodie, you should consider getting a camouflage garment. Unfortunately, there are no camo heated hoodies. However, there is a great camo vest by Gerbing that could be the best option in this case.
Heated hoodies and sweatshirts FAQ
Sometimes it can be confusing to navigate all of the available information regarding heated gear. Therefore, I have answered some of the most common heated hoodie questions.
How to get the heated hoodie size right?
Honestly, heated hoodies are not that much different from regular ones. The only difference that affects sizing is the size of the battery. Some hoodies have larger batteries that will take up space. This means that it is better to opt for a larger hoodie. Nevertheless, some manufacturers have a size guide that can help you get the right size. You can also check out buyer reviews and see what other customers say.
You can get the right size by measuring a hoodie you already own. Just lay it flat on a straight surface and measure from shoulder to hem to get the length of your hoodie. Then, divide it by 2 and measure that distance from shoulder to hem once again. This is the point where you will measure your waist. Waist size determines the size of the hoodie and most sellers have size charts that show the waist size of different sizes.
Can I wash my hoodie?
Whether or not you can wash your heated hoodie depends on the material in the heating materials. If the hoodie's heating elements are made from carbon fiber, then you can safely wash your garment. However, if they are made from steel plates, it's best to wash the garment by hand.
How can I prolong the life of the hoodie?
You can spot clean your hoodie to avoid a full wash. While washing heated clothes is ok, it can damage the garment in the long run. Also, never use a dryer.
Conclusion
Heated hoodies are an excellent addition to your wardrobe. It is that extra warmth and comfort that most of us need on a cold day outside. I hope that my guide has helped you to choose the best heated hoodie for your needs. It is always a good idea to do some extra research on the hoodie that you have chosen before buying it. Remember that you can also opt for heated jackets if you wish to have waterproof heated clothing peace.