Hunting is a practice that calls for precision and focus. When the temperature drops and cold starts to creep in, we can often lose those abilities. However, the ability to move your hands with precision makes all the difference in the world of successful hunting. Therefore, the best solution for cold hands during hunting is heated hunting gloves.
While there is a shortage of heated gloves that are designed specifically for this sport, there are some very good choices for hunters. Some heated gloves offer more durability, flexibility, and comfort than others. There are various factors to consider before choosing your own pair of heated gloves for hunting. To make things easier, we have made a list of 4 best heated hunting gloves on the market. They have been selected based on user reviews and their features.
Below this list of best heated gloves for hunting, you will find a quick guide on what to look for when selecting your own electric gloves for hunting. Let's get started with the top 4 heated gloves for hunting.
Related: Best heated gloves 2020
What are the best heated hunting gloves?
After careful consideration of the available options, their features and user reviews, we have selected these five gloves. In our opinion, these are the best hunting gloves available:
Let's see what are the strong and weak sides of each of these gloves.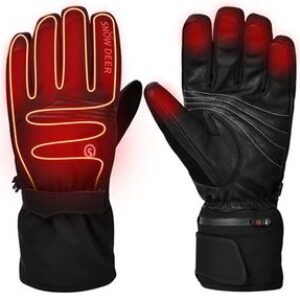 PROS
Waterproof and breathable;

Soft lining;

Available in 7 sizes;

Very comfortable.
CONS
No heat in palm area;

Sizing runs small.
Snow Deer is a known manufacturer of heated gear for various activities. Their gloves have a good quality and price ratio. Their heated winter gloves are great for outdoor activities like hunting. They are durable, warm and provide needed flexibility as they are well fitted.
Heating and Power
Snow Deer's rechargeable heated gloves are powered by a Li-ion 2200mAh battery. You can connect each battery to the heating elements within the gloves by inserting the batteries in a special pocket in the gloves and plugging them in. The rechargeable batteries are supplied with a dual charger. The far infrared technology allows the heating elements on these waterproof heated gloves to heat up rather quickly. Heating elements are located on the back of the hands and around fingers. You can choose one of the three heat settings:
High: 140 – 150°F (60 – 65°C);

Middle: 122 – 131°F (50 – 55°C);

Low: 100 – 113°F (38 – 45°C).
Red, white and blue light will indicate the chosen heat setting where the red is for the highest setting and blue for the lowest. Depending on the chosen heat level, the battery will last from 2 to 6.5 hours.
Protection and Comfort
These battery gloves are very durable as the palm area is reinforced with water-resistant sheep leather. Other areas of the glove are made from waterproof polyester. Make sure to follow the provided size chart to choose the right size. These gloves come in 7 different sizes.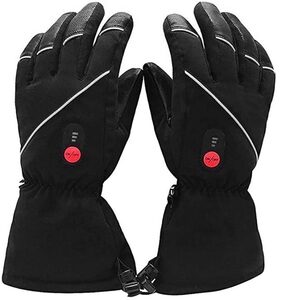 PROS
Comes with a 1-year warranty;

Affordable;

Waterproof and breathable;

Soft insulation.
CONS
Some customers have issues with batteries.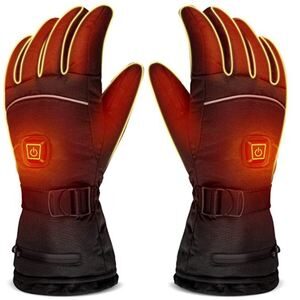 PROS
Long battery life;

Easily adjustable;

Compatible with touch screens

Affordable.
CONS
Common heating issues;

Only one size is available.
Luwatt is a relatively unknown brand in the heated gear market. However, the price level and quality are great and user reviews reveal the true value of these battery powered gloves for hunting. The most common issue mentioned in the reviews was with the batteries. However, most customers received replacement gloves if such issues were experienced.
Heating and Power
Luwatt gloves are heated by powerful 3500 mAh batteries. Most gloves on the market have batteries with lower capacity, so these gloves provide a longer heated experience. Three heat settings are available:
High: 131 – 140°F (55 – 60°C);

Middle: 113 – 131°F (45 – 55°C);

Low: 104°F (40°C). 
The highest heat setting will allow you to enjoy the heat for about 4 hours. This is double the time that most heated gloves usually offer. The middle heat setting will work for around 6 hours. Lastly, the lowest heat setting will work for about 8 hours.
Protection and Comfort
While these gloves are very comfortable, they are made of polyester. Therefore, they might feel cheaper than most other gloves. This is also reflected in the low price. They are marketed and windproof and waterproof. However, some customers reported that the gloves were soaking wet after using them in rainy conditions. Regardless, they are great gloves that heat up for dry and cold conditions as they will keep your hands warm for long hours. Inside of these gloves is lined with cotton and velvet.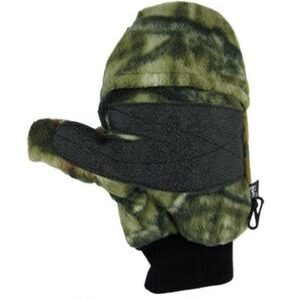 PROS
Very light-weight;

Comfortable;

Powered by replaceable hand warmers.
CONS
Not waterproof or windproof;

You have to buy and use separate warmers;

Not rechargeable;

Hand warmers can fall out of the pockets.
Heated by HotHands warmers!
Heated Fleece Mittens by Heatmax are a great alternative to the standard heated gloves. They are much cheaper and take up less space. However, they are not powered by batteries. The only way to heat them is with separate HotHands warmers.
Heating
Heatmax's heated mittens are designed so that HotHands warmers can fit inside a special pocket. HotHands warmers are made from natural materials such as iron powder, salt, activated charcoal, and wood fiber. You can activate the heat reaction by removing the warmers from their package. Air will act as a precursor for the oxidation process. 
The hand warmers will reach their optimum temperature within 15 to 30 minutes after unpacking them. Depending on the type of hand warmers, they can reach 100 – 180°F (38 – 82°C). They will generate heat for about 1 to 20 hours. After use, you can dispose of the warmers in the garbage bin as they are harmless to nature.
Protection and Comfort
These are extra-light fleece gloves that serve as a carrier for the separate hand warmers. They are very soft, comfortable, and thin heated gloves. Therefore, they are great for outdoor activities like hunting. However, they are not wind or waterproof and your hands will be heated only around the pocket area.
Other options
If you are not sure if a full version of heated gloves won't be too bulky or they seem too expensive, you can opt for heated glove liners. They can be inserted in any other gloves large enough for a liner. This is a simple solution that allows you to save some money while using the gloves you currently own or want to buy.
How to choose heated gloves?
There are several features that you should consider before buying a pair of heated gloves for any purpose. If you prefer a full guide with all the details, see our heated gear buyer's guide. In case you are looking for a quick walk-through of the most important things to look for, keep on reading.
Batteries
Heated gloves get their power from external batteries. They can be inserted in a special pocket in the gloves and connected to the heating elements incorporated in the gloves. When the batteries are drained, you can recharge them with a dual charger that is supplied with most of the heated gloves. Most battery-powered gloves have two 2200 mAh / 7.4 V batteries. In case you prefer a longer heating time, get a set of 3000 mAh rechargeable batteries for heated gloves. Another option is to get a second set of batteries to replace the old ones when they are drained.
Heating area
The connected batteries will heat up the heating elements inside the gloves. However, not all gloves have the same pattern and coverage of heating elements. Therefore, you should look at the supplied heat chart to see where the heat will warm your hands. Most brands display a heat image in the listing so you can see where the heat elements are.
Look for gloves that will heat the areas that you get most cold at. Most battery powered gloves will heat up the back of the hand as well as all-around fingers. Some gloves will also heat the palm area.
Temperature control
Another thing to look for is an incorporated temperature controller. Usually it is a button on each glove that allows you to choose one of three heat settings. Some gloves offer more than three heat settings while others – less. If you can't adjust the temperature of your gloves, there is a chance your hands will get hot or cold. This can interfere with your comfort.
Fit
Most gloves are made unisex. Therefore, you should only rely on measurements of your hand compared to the provided size charts. You should also consider the thickness of the gloves. For hunting, it is an important factor as bulky gloves won't allow you to move your fingers freely. In this list of best heated hunting gloves, we have selected the ones that feel less bulky and allow most flexibility.
Heated gloves FAQ
In case there are any other unanswered questions, you might find answers to them in our heated hunting gloves FAQ.
Are heated hunting gloves safe?
Yes. All of the gloves that are sold must comply with the safety guidelines. The heated coils inside the gloves are tested for safety and are insulated for protection and comfort. They are sown in the material of the gloves and you won't come in direct contact with the heating elements.
How do heated hunting gloves work?
Most heated gloves are powered by a battery you can connect to each glove. When the battery is connected, you can select the preferred heat setting with a temperature controller on the gloves. This will start the heating process and you will soon feel warm. Most gloves work from 2 to 6 hours depending on the selected heat setting. When the batteries are empty, you can charge them with the provided dual charger.
How do you wash heated gloves?
Heated gloves can only be washed when the batteries are disconnected and separated from the gloves. You can hand-wash the gloves with mild detergent in cold water for the best results. This will prevent the gloves from deformation. You can also wipe away any dirt or sweat from the gloves with a damp cloth.
Conclusion
We hope that after reading our article you have a better idea about choosing heated gloves for hunting. All of the above mentioned heated gloves for hunting are carefully selected based on customer reviews and their features as well as pros and cons. Our personal view is that Snow Deer Heated Gloves are the best heated hunting gloves on the market. They provide flexibility and warmth for the best hunting experience. If you have any other questions, feel free to leave them below in the comment section.