Gloves are one of the best accessories to have with you in cold weather. This is especially true when you are skiing or snowboarding. However, sometimes even the warmest gloves won't keep our hands warm enough. Luckily, gloves have evolved to offer better experience and value for money. So for those of you who get cold hands with the traditional skiing gloves, we recommend considering heated ski gloves.
Heated gloves are one of the latest developments in the ski-wear market. If you choose the right model that fits you well, they will work like a charm. This means spending more time on the mountain with great comfort.
When choosing your heated winter gloves, there are several factors to consider. Many electric heated gloves offer distinct advantages. To make things easier for you, we have selected 5 best heated ski gloves that are perfect for exactly this purpose.
You can find a guide on choosing the best heated gloves and what to look for down below. Without further delay, let's see the advantages and disadvantages of each of the five best heated electric gloves for skiing and other winter activities.
Related: 15 BEST heated gloves
What are the best heated ski gloves?
After spending countless hours online researching the best heated gloves for skiing, we found that these ones are the best ones on the market.
Let's see what is the difference between these battery-operated gloves for skiing.
PROS
Very warm even without the extra heat;

Made in the USA;

Powerful batteries with dual charger;

Adjustable wrist strap;

Waterproof and breathable.
CONS
Can feel bulky due to the battery size.
Volt is a well-known brand that manufactures good quality heated gear. Designed and developed in the USA, these electric gloves are very suitable for extreme weather and won't let you down even in the toughest weather. Therefore, it is no wonder that this particular model is rated by its users as one of the best heated gloves available. Although the price is quite high, these are the best heated ski gloves that are certainly worth investing in. They are made from high-quality materials and will last long.
Heating and Power
Volt Avalanche X is powered by two rechargeable 3350mAh batteries. You can recharge them simultaneously since a dual charger is provided. The gloves heat up rather quickly and you can choose one of the three heat settings. Depending on the chosen level of heat, Volt Avalanche X will last for about two to six hours.
The heating elements on these gloves radiate warm air all around your hands and fingers. Avalanche X is a part of the Volt Extreme family with a rise of 20% in heat coverage. They are isolated very well. Therefore, the cold air from outside won't get inside the gloves. The generated heat will be trapped inside to warm your hands.
The heat can be easily controlled by a LED button on the gloves. The button is easy to press while wearing the gloves. You can select one of the three heat settings:
High – Red 100%;

Medium – Blue 66%;

Low – Green 33%.
The high setting will last for about 2 hours while the middle heat setting lasts for about 3.5 hours. If the lowest heat setting is chosen, the gloves will last for about 5 hours in total.
Protection and Comfort
These battery gloves are very comfortable to deal with the deepest powder without getting cold hands. Made from an outer nylon shell with leather palm, they provide extra breathability and warmth. They are pre-curved and feature a ski leash for extra convenience. The sleek style and design of these gloves won't disappoint even the pickiest of customers. The inside of the glove is lined with a fleece and waterproof/breathable membrane.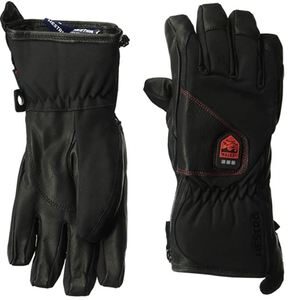 PROS
The battery can last up to 10h;

2 years warranty;

Comes with international charging adapters.
CONS
Tight fit;

Costly;

Thumbs are not heated.
Being a Swedish brand, Hestra knows how to make exceptionally well-made gloves. Hestra's gloves are suitable for the coldest weather imaginable. They have been producing high-quality heated gear for many years. Hestra's advantage over other manufacturers is that they have been consulting with professional skiers and other winter sports enthusiasts to come up with the best solution. Therefore, this pair of battery-operated gloves is very practical for activities like skiing. They are also very suitable as heated snowmobile gloves. While being very well-made and of good quality, these gloves are not rated as the best in the category due to the very high price they come at.
Heating and Power
The heating elements of these gloves are arranged so that the heat is evenly distributed throughout the hand and fingers. However, there are no heating elements in the thumbs. Depending on your specific needs, the lack of heat in the thumbs could result in colder hands.
One of the best things about these gloves is the long duration of the battery-powered heat. There are three settings of heat to choose from. Depending on the chosen setting the gloves will last from 2 to 10 hours. Heat setting can be easily changed with a controller on the top of the rechargeable heated gloves. The three settings are:
High – Up to 2 h;

Medium – Between 4 – 5 h;

Low – Between 8 – 10 h.
Protection and Comfort
These gloves are 70% synthetic and 30% leather. The upside is made from breathable polyamide fabric while the palm is proofed with durable goat leather. A common advantage mentioned by users is that Hestra gloves are very warm even without the heat.
If you prefer gloves that are roomier, you should opt for a larger size. These electric heated gloves come in standard European sizes and, therefore, could be a bit tight.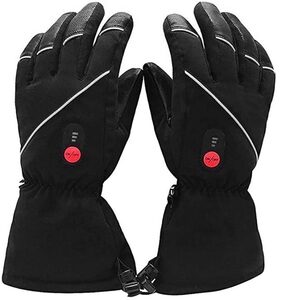 PROS
Comes with a 1-year warranty;

Price level;

Waterproof and breathable;

Soft lining.
CONS
Some customers have issues with batteries.
While Savior is not as popular as the previous brands, quality and the price is their strong side. The price level of these electric gloves is very appealing keeping in mind what these gloves offer. They might not be the best choice for those who get extremely cold hands while on the mountain. However, they do provide a pleasant amount of heat that will help to keep your hands warm.
Heating and Power
Savior electric heated gloves are powered by a 2200mAh battery that warms the heating elements throughout the gloves. Heating elements are located on the whole back of the hand as well as around the fingers. The battery can be fitted in a special pocket inside the gloves and recharged via dual charger supplied. Depending on the chosen heat setting, they will last anywhere between 2 and 5 hours.
These gloves can be set to one of the following heat settings:
High: 140 – 150°F (60 – 65°C);

Middle: 122 – 131°F (50 – 55°C);

Low: 110 – 113°F (43 – 45°C).
On the high setting, they will last for about 2 to 2.5 hours while the medium setting will allow you to warm your hands for about 3 to 4 hours. If on the lowest heat setting, you will have to recharge after 4 to 5 hours.
Protection and Comfort
Made from lambskin (40%) and polyester (60%), they are breathable and waterproof. The internal part of the glove is made from a cotton insulation layer that will keep you comfortable and dry. They come in different sizes so you should be able to find the right fit for your needs. When compared to other gloves, Savior gloves provide more room in the palm area.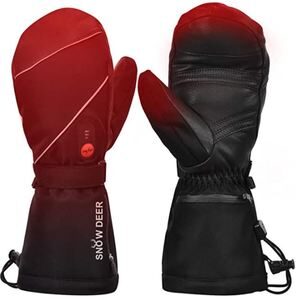 PROS
Waterproof and breathable;

Very comfortable.
CONS
Lack of dexterity;

Sizing runs small;

No heat in the thumbs;

Some buyers reported fragile battery pocket zippers.
Snow Deer is a known company that produces various heated gear for outdoors. Good-quality heated gloves at an affordable price is their strong side. Therefore, it comes without a surprise that these heated mittens are great for keeping your hands cozy while skiing or being outdoors. While the price level is average, the quality of these gloves provides good value for the money.
Heating and Power
Snow Deer's battery heated mittens come with two Li-ion 2200mAh batteries. They can be charged simultaneously with a dual charger. The heating elements are located on the whole back of the hand as well as around fingers until fingertips. Therefore, these gloves won't fail at keeping you warm. Three heat settings are available:
High: 140 – 150°F (60 – 65°C);

Middle: 122 – 131°F (50 – 55°C);

Low: 110 – 113°F (43 – 45°C).
You can easily control the temperature setting with a controller button on the top of the gloves. The red color will indicate a high heat setting while white indicates middle heat setting and blue – low heat setting. The battery will last for about 2 – 2.5 hours on a high setting, 3 – 3.5 hours on middle setting, and 6 – 6.5 hours on low heat setting.
Protection and Comfort
Like all mittens, these gloves lack dexterity since you can't move your fingers freely. The mitten shape of the gloves prevents you from moving each finger individually. While this might be a downside for some, others might find that mittens are more comfortable to wear. The gloves are made from sheep leather and the back of the hand is made from waterproof and breathable polyester. For additional comfort, these gloves are lined with insulated cotton and fleece.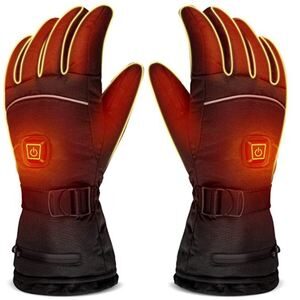 PROS
Long battery life;

Easily adjustable size;

Compatible with touch screens;

Very affordable.
CONS
Common heating issues;

One size available.
If you are not willing to break the bank, Luwatt battery heated gloves for skiing could be the choice for you. They come at half the price that most other heated winter gloves cost. However, some buyer's reported that the heating elements didn't work on new gloves. At the same time, most buyer's with this issue received replacement gloves. This is a great choice if you are willing to take the risk.
Heating and Power
Powered by a 3500 mAh battery, these battery-powered gloves can last longer than most other rechargeable heated gloves on the market. You can choose from one of the three heat settings:
High: 131 – 140°F (55 – 60°C);

Middle: 113 – 131°F (45 – 55°C);

Low: 104°F (40°C). 
If the highest heat setting is chosen, these gloves can work for up to 4 hours. In the middle heat setting, the battery will last for about 6 hours while the lowest heat setting will last for about 8 hours.
Protection and Comfort
Made almost entirely from polyester on the outside, these gloves have a cheaper feel to them than most other heated gloves. While they are advertised as windproof and waterproof heated gloves, some buyer's reported that they were soaking wet in rainy conditions. If you use them on dry and cold days, these gloves will keep you dry, warm, and comfortable. The inside of the gloves are lined with cotton and velvet.
Other options
If you don't want to invest in a new pair of skiing gloves or your old ski gloves are just too good to give up, you can opt for heated glove liners. They are very thin and can be worn underneath your current gloves. Just make sure that your battery operated heated gloves are large enough so that you can wear them over the glove liners. This is a simple and great option as it generates a pleasant amount of heat.
How to choose heated gloves?
When it comes to heated ski gloves there are several features you should consider prior to buying a pair. If you would like to get a full guide on choosing heated gloves that will suit your needs the best, see our detailed article about heated gear. If you want a quick walk-through on the main features to consider, keep on reading.
Batteries
All of the gloves suitable for skiing or other outdoor activities get their power from batteries. The supplied batteries provide energy for the heating elements inside the gloves. While most glove liners come with 2200 mAh / 7.4 V batteries, some might have larger or smaller sized batteries. This will change the total amount of time that the glove liners can generate heat for.
In case you want a more powerful battery or a replacement set for longer heating time, get another set of rechargeable batteries for heated gloves.
Heating area
Not all of the battery-powered gloves have the same pattern of heating elements. Therefore, you should pay attention to where the heating elements are located. They are sown in the material so you won't be able to see the heating elements directly. However, most manufacturers will show the color scheme of the model with the red color representing heated areas.
Look for gloves that warm up the areas of your hands that get cold most often. Speaking from experience, our fingers tend to cool faster. So look out for gloves that supply warmth all around the fingers and other hand areas that you feel are usually getting cold.
Temperature control
Most manufacturers integrate a temperature controller in their battery heated gloves. Usually, you can choose from three heat settings – low, medium, and high. This is a very useful feature as it allows you to set the most comfortable temperature for a particular weather. If the temperature of the gloves can't be adjusted, your hands might get sweaty and you will get uncomfortable.
Fit
Almost all glove models come unisex. That means that you should look for the size charts provided instead of trusting the usual size that you buy. Another thing to consider is the thickness of the gloves. Some of them are thinner than others. For some of you, this might be more comfortable.
You should also consider the materials gloves are made of. Some are made from leather while others are made from fabric. You might even find a mix of the materials used.
Heated gloves FAQ
In case you have some unanswered questions regarding rechargeable battery-powered heated gloves, you might find answers in our FAQ.
Are heated ski gloves safe?
Yes. All of the heated gloves are tested for safety. You can be sure that they are safe since they can't be sold if they don't comply with safety guidelines. Heated coils inside the gloves won't be in direct contact with your hands. They are sown in the fabric and protected by layers of coatings and fabric.
How do heated ski gloves work?
Heated ski gloves are powered by external batteries. You can recharge them whenever empty. By connecting the battery to the glove, you ensure the power source for the heat elements inside the gloves. You can then turn on the gloves and choose one of the offered heat settings. This can be done with a controller button on the gloves.
How do you wash heated gloves?
To preserve the comfort of the gloves, it is best to hand-wash in cold water and with mild detergent. You can also use a damp cloth to wipe any dirt or sweat from the gloves. Never wash the gloves while batteries are inside the battery pockets of the gloves.
Conclusion
We hope that our article has helped you to choose the most suitable pair of heated ski gloves for your needs. All of the gloves featured above are selected after careful consideration of their pros and cons as well as the overall reviews of their users. Our personal view is that the Volt Avalanche X Heated Gloves is the best pair of heated ski gloves currently available on the market.
Remember that each of us has their own preferences so please choose the gloves according to your own unique needs. In case you have any additional questions or comments, feel free to leave them below and we will get back to you as soon as possible.