Spending your time outdoors when you are freezing is not pleasant. Thankfully, people are creative and there are numerous solutions to tackle this problem. Heated gear such as heated hats is one such solution.
Much of our body's generated heat is lost through our head. It makes sense that it is one of the first places you should protect from the cold. Heated hats are a great way to both trap the body's generated heat and provide an extra warmth. This allows you to considerably extend the enjoyable time outdoors while fishing, skiing, hunting, winter camping, or any other activity.
To get these advantages, you should look for a heated hat that performs well. In this article, you will find 5 of the best heated hats that you can currently get. Moreover, I will share some tips and tricks on what to pay attention to. Let's quickly go over some things to consider.
What to look for?
Just like with any other product, a little research can help to choose the most suitable product. Keep in mind that any battery heated hat has a battery attached to the inside of the hat. It is concealed but might appear unusual at first. Here is a brief checklist of things to think about when you are buying any heat-generating clothing:
Type of heating elements;
Battery voltage;
Used materials;
Trustworthiness of the brand.
You can find more detail on each of these aspects at the bottom of the article. Let's see which heated hats are worthy of buying.
What are the best heated hats and beanies?
The number of choices available can be overwhelming. However, after thorough research involving review checking, feature scanning, and personal recommendations, I can say that the 5 hats on this list are a good choice. They are made from quality materials, performance is as expected and it is likely you will be satisfied for a long time.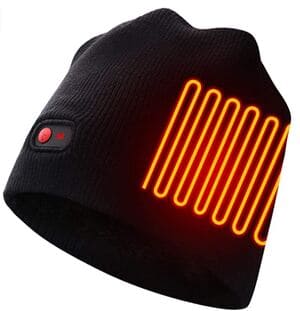 PROS
Large heating area;

Comes with a battery;

Long working hours;

Three available designs.
CONS
Sizing runs small;

The battery compartment might seem loose when the hat is oversized.
When it comes to heated hats, Autocastle has repeatedly shown the quality of its products. This hat comes at an acceptable price point for its features and build. One of the best things about it is the heated area. It covers a large part of the hat, providing a good and even heat output. This helps to avoid overheating of one spot while other parts of the head are freezing.
Another feature that I like is the heating time. It can last for up to 7 hours on a single charge. Of course, that is when used on the lowest heat setting. The hat comes with a standard 3 heat settings – low, medium, and high. It is the optimal solution as you can adapt the heat output to the weather.
The hat comes with cotton insulation. It will keep you warm without losing a lot of heat. Moreover, the hat comes in three designs including two colors – black and grey.
FEATURES
Up to 7 hours of heat;
Digital temperature controller;
3 heat settings;
Cotton insulation.
Our score: 4.9/5
---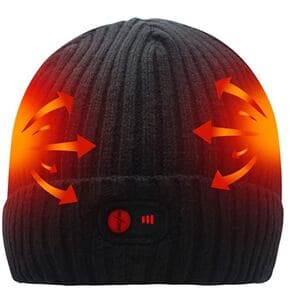 PROS
Comes in three styles;

Battery included;

Warm without the extra heat;

Made from sturdy materials.
CONS
The temperature controller is on the front of the hat.
Like most other heated hats, this one comes with a standard set of features. It has 3 temperature settings to choose from – low, medium, and high at 50%, 75%, and 100% respectively. Furthermore, it has proper heat coverage on both sides of the head.
Made from sturdy acrylic outer material, the beanie will last for a long time. Moreover, it has great wind resistance. It will also protect you from getting wet in mild rain. In case of heavy rain, you should remove the hat as it's generally not safe to use electronics in the rain. Apart from this, it is safe to wear and you will be comfortable in it. Similar to the first hat on my list, you can choose from 3 different styles.
FEATURES
Up to 7 hours of heat;
3 heat settings;
Heats up in 30 seconds;
Built-in temperature controller;
Soft fleece lining.
Our score: 4.9/5
---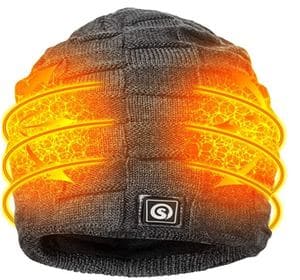 PROS
Comes in two styles;

Has a large heating area;

Safe to use;

Covers the entire ear area.
CONS
What I like about this hat the most is the materials it is made from – 80% cotton, 12% polyester, and 8% elastane. Unlike the first two hats on this list, it is a little bit more comfortable. However, it is in third place as it is a bit thinner. Therefore, it doesn't provide the best heat retention. Moreover, it will get soaked a bit faster in case you get caught up in heavy rain.
Other than that, it is quite similar to other electric hats. It has 3 heat levels to choose from, great heat coverage, and a battery that is included in the set. Heat coverage is optimal for comfortable wear.
FEATURES
Up to 8 hours of heat;
3 heat settings;
Heats up in 30 seconds;
Easy to use temperature controller;
130 °F (54°C).
Our score: 4.7/5
---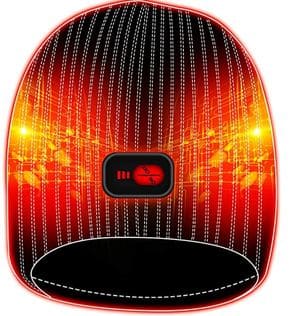 PROS
Comes with a battery;

Good heat coverage;

Reasonable rain and wind resistance.
CONS
Comes in one style;

Hand-wash only.
Like the first two hats on this list, Heat Warmer's hat is made from acrylic fabric. Acrylic has slightly better wind and rain resistance. However, it also means that you should choose the correct temperature setting depending on the weather. Acrylic fabric doesn't provide the same airflow as cotton. Meaning that your head might sweat when the heat setting is higher than needed.
Apart from the material choice, this heated hat comes with a standard set of features – 3 heat settings, good heat coverage, and insulation lining on the inside. The maximum temperature is a bit lower than on average. Therefore, it might not be the best heated heat for extremely low temperatures.
FEATURES
Up to 7 hours of heat;
Heats in about 1 minute;
3 heat levels;
Digital heat controller;
115 °F (46°C).
Our score: 4.6/5
---
What is the best heated balaclava?
Balaclava is a great alternative to a heated hat. They are easy to use and have better face coverage. Moreover, they are comfortable to use with helmets in case you plan to use them while on a bike or skiing. That being said, I believe that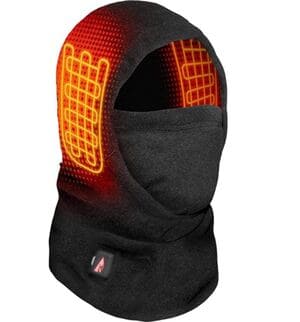 PROS
Comes with a power bank;

A special pocket on the back of the balaclava for power bank;

You can machine-wash;

Made from plush fleece;

Water-resistant.
CONS
Neck gaiters or balaclavas as they are widely known are a great alternative to hats. This particular one by ActionHeat is one of the best ones on the market. It is comfortable and provides good heat coverage, and flexibility. It has a water-resistant outer shell, insulation layer in the middle, and a fleece lining for best comfort and breathability.
What separates it from most other heated clothes, is the way it is powered. Instead of using the standard lithium-ion battery, it uses a 6000 mAh power bank. You can use it for charging other devices as well. The battery fits in a dedicated pocket on the back of your head.
FEATURES
Powered by a 6000 mAh power bank;
Up to 5 hours of heat;
3 heat settings;
Heats up to 130 °F (54°C).
Our score: 4.9/5
---
Things to consider before buying
At the beginning of the article, I mentioned 4 things to think about while looking for a heated hat. Here is a quick recap:
Type of heating elements;
Battery voltage;
Used materials;
The trustworthiness of the brand.
By considering these things carefully, you will increase your chances of finding the right fit right away.
Types of heating elements and coverage
Some manufacturers don't specify the type of the used heating elements. However, most trustworthy companies will show this information. Check if the heated hat you are looking at uses steel plate or carbon fiber heating elements. The latter is a better option. They are more durable, flexible, and safe. Moreover, carbon fiber heating elements are more efficient in terms of heat output.
Apart from the heating element type, you should also pay attention to the coverage of the heating area. Most hats heat the area that covers both your ears. Some hats have a larger heat area than others. This might mean that you will get less heating time on a single charge. However, that's not always the case. If the battery capacity is larger, it will provide a better performance both in terms of heating time and coverage. This brings me to battery performance.
Battery performance
The reason you should consider battery voltage is obvious. Larger battery capacity means either more heating power (hotter surface) or longer working time. The most common batteries used for electric heated hats are 7.4V battery. That is a standard choice and is enough to keep you warm for about 6 hours on the lowest heat setting. If the heated area is larger than average, you should look for a larger battery as well to keep the run time more or less the same.
Nevertheless, you can always buy a separate battery to replace the drained one or get a battery with a larger capacity.
Used materials
The material choice of the hat is also an important thing to consider. Many hats are made from acrylic fabrics. While others are made from cotton. Acrylic fabric is slightly more resistant to wind and water. However, it won't protect you from heavy rain. Either way, you shouldn't use an electric hat in heavy rain conditions as the battery might get exposed to water. It can damage the battery.
Apart from the outer materials of the hat, you should also consider whether the hat has a lining for heat retention. An insulated hat allows you to use the battery-generated heat more efficiently. In turn, it will extend the heating time. A fleece lining is one of the most efficient ways to ensure heat retention. You might not even need to turn on the battery heat.
Brand trustworthiness and safety
Brand trustworthiness is the area where most brands fail. While I haven't had many negative encounters with the quality of heated gear, some other users have had incidents with their heated clothing. One of them even presented a potential health hazard – a heated jacket that turned on in a bag and started to smolder. However, it is only one case among many thousands.
Most issues are related to bad customer service. This is when brand trustworthiness comes into play. It is best to opt for a brand you can trust. It means that you will likely receive appropriate customer service if you need it.
In terms of safety, all heated clothing is generally safe. All heating coils are covered with an insulation layer to avoid them getting in touch with your skin. Moreover, if the brand is legitimate, it is likely that the electrical elements of the garment are certified for safe usage.
Features to look for
Aside from the things already mentioned, you should check if the hat has the standard expected features. Those are:
3 heating levels;
Heat control button on the exterior;
Included battery and power bank;
Included battery charger;
At least up to 6 hours of heat;
Convenient battery storage pocket.
If a hat has all of these features and more, and the brand is trustworthy, it is likely you won't be disappointed. However, I advise to read at least some user reviews to avoid issues like sizing that runs large or small. This might be more relevant to balaclavas.
If you wish to get more information on heated gear, see this post about choosing heated gear.
Heated hats FAQ
There is a lot to think about when purchasing a heated clothing like an electric hat or a beanie. In case there are some questions I haven't answered yet, you might find answers in this section.
Are heated hats safe?
Yes. As mentioned before, most electric pieces of clothing have to pass certification in order to be sold. This means that by the time that hat gets listed, it is certified and tested for safety. Regardless, you should take some safety precautions to ensure safe usage. This includes:
Avoid using heated hat in heavy rain;
Be mindful of the battery storage – it is best to store it at 40-50% state of charge;
Don't leave the hat turned on while not using it.
If you apply general rules of electric device safety to the heated hat, you should be more than fine.
Can I sleep in a heated hat?
No, you should never use any heated clothing while you are sleeping. You should always be able to monitor its performance in case anything malfunctions.
Can I machine wash my heated hat?
You can machine wash most heated clothing if you detach the battery. However, made sure that the manufacturer has identified this on the labels. Otherwise, you might only be able to wash the hat by hand. Nevertheless, the lifetime of any clothing can be extended by hand-washing with a mild detergent.
Wrapping up
I hope you are now equipped with all of the necessary information to choose your own heated hat. The hats listed on this list have proven their worth to many customers. Moreover, these are brands that I trust for quality electric clothing. Make sure to match your individual needs with the features of the hats. If you liked this article and you prefer to stay both warm and comfortable – check out our electric sweatshirts and hoodies guide.
Enjoy!