For most people, camping is a great outdoor recreation in spring and summer. Everything is green and lush or it's just starting to come to life after long winter months. Either way, it's an uplifting experience that invites us to spend quality time with our friends and family. But what if I told you that you don't have to limit this experience to the warmest months of the year?
Camping can be magnificent even when it is cold outside. However, some preparation is required to have a pleasant evening when it's freezing outside. Therefore, in this article, I will tell you the best tips and tricks on how to stay warm in a tent.
#1 – Bring a tent heater
This one is quite obvious. Camping heaters are meant to keep you warm in enclosed areas such as a tent. You can bring along a tent heater on your camping trip and put it inside your tent when it's starting to get cold. Some heaters can run overnight, while others have to be turned off for safety reasons.
You can get an electric or a gas tent heater. Both types will do the job but there are some considerable differences. If you wish to gen an electric heater, you must have access to a power supply. Be it an equipped camping ground or wilderness camping with your own batteries, you must make sure that you have electricity. Otherwise, cold will creep in within minutes. Aim To Discover has described the best tent heater models and a guide on choosing one.
#2 – Use a warm sleeping bag
A warm sleeping bag is one of the best investments you can make for comfortable camping. Apart from using it on cold nights, you can use it all season long and allow ventilation if it gets too hot. Look for comfort limit temperatures indicated on the sleeping bag. Depending on where you plan to camp, adjust the minimum temperature to look for. If it's going to be 0 degrees outside, look for a comfort temperature of at least that. You can also look for a sleeping bag that is lined with fleece. It helps to trap some of your own heat within the sleeping bag so you can stay warm for longer. This guide explains what to look for in great detail.
#3 – Strategic campsite location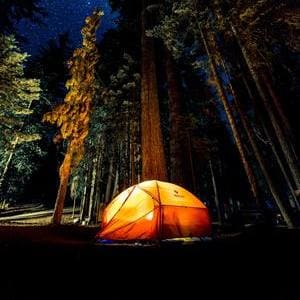 By choosing the best campsite placement on the premises, you can usually ensure a great deal of protection from wind and cold. Look for natural wind blockers such as large stones or wide trees that can provide protection against wind. Also, try to avoid the lowest points since that's where the cold air settles. A campsite that is about 50 feet above the ground level will do the trick.
#4 – Use heated gear to stay warm
Apart from the tent heaters, you can also bring heated gear. A warm vest that is electrically heated will provide a sufficient amount of heat to your core. It is very comfortable to sleep in and you don't have to worry about any safety issues like with tent heaters. Simply connect the power bank to the jacket or other piece of heated clothing. Most garments can radiate heat for up to 6 or 8 hours. This, of course, depends on the chosen heat setting.
To extend the run time, you can also bring a spare power bank to swap the drained one. This is one of my favorite ways to keep warm in winter. Here is a guide that will help you to choose your own heated gear.
#5 – Ventilate your tent
Although this tip might seem counterintuitive, it's actually one of the best ways to ensure a warm night. Your body and breath can result in condensation on the tent walls. Your tent becomes damp as does your equipment including your sleeping bag.
Dampness results in chilliness.
As we all know, damp air can feel colder than it is. That's the main reason why you need to ventilate your tent for a warmer night. Having dry air in the tent will keep your nose warm and your equipment dry. As a result, you will have a more comfortable and warm night. It's a great way to stay warm in a tent.
#6 – Use insulation from the ground
If you are an experienced camper, you will already know the difference that an air mat can make. Make sure to always bring it with you as it creates a layer of warm air between you and the cold ground. A thicker mat with a reflective coating will be best for cold camping nights. Another way to stay warm in your tent is to create a layer of leaves and branches underneath your tent. This will provide an extra air layer to keep you warm and toasty. It will also prevent the build-up of excess moisture on your tent's floor.
#7 – Wear warm headgear and socks
Another obvious tip that is worth repeating. Don't forget to pack the warmest and thickest socks and hat for your night's rest. Wearing headgear and protecting your feet from cold can make all the difference. You can lose a considerable amount of heat through your head and feet. Furthermore, wearing a hat can prevent you from pulling your head in the sleeping bag. Breathing in the sleeping bag creates extra moisture that can cause you to feel cold. As for the feet, it is often the first thing that gets cold. So wearing a nice pair of wooly socks will help you to retain your own heat much better.
#8 – Wear the right sleepwear
Although it might seem tempting to crawl into your sleeping bag without changing your clothes, it can do more harm than good. Tight clothing can restrict your blood flow, messing with your body's ability to keep warm. Furthermore, a breathable and soft pajama or cotton thermal gear will make you more comfortable and prevent moisture from creeping in. Besides, having a clean set of sleeping clothes can help you to feel more comfortable and help you to get asleep faster.
#9 – Use mylar blanket
This is another trick that can go a long way in keeping you warm in winter camping. Mylar or space blankets as they get called are suitable for regular use and for emergencies. Their price is a great advantage as it is a cheap way to provide insulation for your tent. You can use the blankets on the floor of your tent and attach them to the sides of it. Or you can wrap yourself in the blanket to retain your own heat. They reflect up to 90% of your body's heat so it is a great way to keep warm. Moreover, they are waterproof and windproof.
#10 – Warm up before bed
Some aerobic activity before bedtime will get your blood flowing to keep you warm. Getting warm before bed will ensure that you don't get cold right away. Do some jumping jacks, burpees, or squat exercises. To warm up inside your sleeping bag, you can do some crunches. This way you won't even have to get out of the sleeping bag.
#11 – Ensure enough calories
Staying warm means burning through calories. Therefore, make sure to eat proper meals throughout the day. Higher calory input will result in more efficient heat production. You can also eat a small meal before going to bed. It will keep your stomach warm during the night, ensuring that your core doesn't get cold.
# 12 – Hydrate during the day
Another thing to ensure efficient body temperature regulation is hydration. A dehydrated body can't work as efficiently. Furthermore, stop drinking before bedtime. This way you won't have to get out of bed to urinate. If you absolutely must do it, consider using a container inside a tent so you don't have to get cold by getting outside your tent.
Conclusion
There are many ways to keep you warm on a cold camping night. These are some of the best ones that I have tried myself. Doing that extra step can make all the difference in keeping you warm. Make sure to pack warm clothes and the necessary supplies to always stay warm. I hope that my advice has helped you to prepare for your own cold camping. Let me know in the comment section below if you have tried any other ways of keeping warm.