A heated jacket is a great way to never get cold again. Unlike other winter jackets, the best electric jackets will keep you warm regardless of the conditions. In this article, we will explore some key points to pay attention to when choosing a heated jacket. Moreover, I will go over 7 of the best heated jackets currently on the market.
But first, let's see how a heated jacket works.
The working principles of a heated jacket are quite simple. There are several heating elements sown into the fabric of the jacket. They can heat up when you provide an electric current through a connected battery – usually a power bank. The generated heat is pleasant and you can usually select the desired temperature setting. Furthermore, you will be safe from any electric risks as the heating elements are coated with a protective layer.
To select the best heated jacket for your needs, you should consider:
Heating elements and heat control;
Battery voltage;
Material.
There is a good chance that the jacket you are looking at uses carbon fiber or steel plates as heating elements. I would recommend opting for carbon fiber heating elements to get the most durability, more efficient heating technology, flexibility, and safety.
The heating time and heat performance of your jacket depends on the battery voltage. The higher the voltage, the longer a battery will last on a single charge. A 7.4V battery is an optimal choice most of the time.
The durability of any heated jacket is dependent on the material choice. Polyester is a common outer layer material used for its wind and rain resistance. However, there should be an inner layer that provides heat retention. A fleece lining serves this purpose well while keeping the flexibility of the jacket. However, there are other options that can successfully retain the generated heat.
You can find more information regarding buying considerations below this list of best electric jackets.
What Are The Best Heated Jackets?
After careful consideration of the most popular heated jackets and their buyer reviews, I can say that these are the best jackets for specific purposes.
Best overall for men: Ororo heated jacket for men
Best women's heated jacket: Ororo electric jacket
First choice for hunting: Dewalt camo heated jacket
Best for motorcycles: Venture Heat heated jacket liner
Best softshell for working outdoors: Bosch softshell heated jacket
Each of them has its strengths and weaknesses. You should consider how you are going to use it and what you will be doing while wearing the jacket. If there is a good chance you will get under the rain, then consider getting a jacket with a softshell outer layer. Let's see the reviews of the top 7 best heated jackets.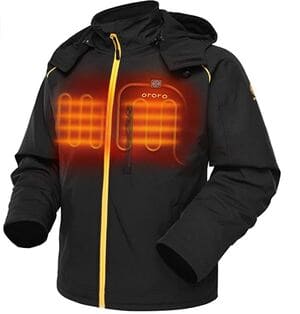 PROS
Machine wash-resistant;

Stylish and very warm;

Detachable hood;

Suitable for various weather conditions.
CONS
Sizing runs small;

You can't put it in a dryer.
You will find lot's of Ororo heated jacket reviews that will say that this one is the best on the market. I can't agree more. Although it is not the most affordable jacket, it is very stylish, weather-resistant, durable, and most importantly – warm.
The outer shell of this jacket is made from a polyester softshell. It does a great job of protecting you from wind and rain. This model comes with a hood that serves as extra protection from cold weather. Furthermore, it has a soft fleece lining to trap the heat for maximum heat efficiency.
Now – the most important part. This is one of the top heated jackets because of its exceptional heat performance. It has three heating zones – two on the chest and one on the back. You can change between the three heat settings with a click of a button. Moreover, the battery lasts for up to 10 hours on the lowest heat setting. The possibility to charge your phone via an extra USB port is a considerable advantage.
Overall, this is a great choice if you are looking for a simple product that will serve you well.
Features
Heating elements across the chest and back;
Up to 10 hours of heat;
USB for charging phone;
Made from polyester and fleece;
Machine washable.
Our score: 4.9/5
---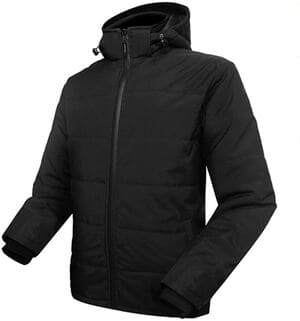 PROS
Machine wash-resistant;

Minimalistic design;

Detachable hood;

One year warranty.
CONS
Sizing runs small;

You can't put it in a dryer.
Although I have put this jacket in second place, it is just as good as the first jacket on this list. Manufactured by Ororo, this is the best women's heated jacket. It is comfortable, warm, and reliable. The main difference from the first jacket reviewed in this list is that this one doesn't have a softshell outer layer. Therefore, it won't hold as well in rainy conditions.
Like most heated items by ORORO, it has great heat performance. The heat is distributed across the chest and back. You can choose from three heat settings with a push of a button on the front of the jacket. The minimalist design will keep things simple and you will never appear bulky. It is a great choice for various weather conditions.
Features
Heating elements across the chest and back;
Up to 10 hours of heat;
USB for charging other devices;
Machine washable.
Our score: 4.9/5
---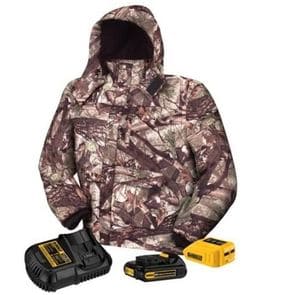 PROS
Water and wind resistance;

Has a camouflage outer shell;

Removable hood;

Neck and faceguard;

Heated collar.
CONS
If you are looking for a heated hunting jacket, this is the right match for you. Dewalt is known not only for the power tools they make but also for its quality heated gear. This heated jacket is not an exception. With a camouflage outer layer, it will help you hunt undetected while also keeping you warm.
It has 4 heating zones to keep you warm – both sides of chest, mid-back, and collar. It is worth noting that a heated collar is a rare feature that is valued by many customers. You can choose from three heat settings. Moreover, a pre-heat function is integrated for convenient use.
The soft shell outer layer will protect you from wind and rain. In total, the jacket has 7 pockets. That is a very useful feature while out in the wilderness. Overall, it is a reliable jacket that will serve you well.
Features
Heating elements in 4 heating zones;
7 pockets;
Pre-heat function;
USB port for charging other devices;
Around 7.5 hours of runtime on a full battery;
20 V battery.
Our score: 4.7/5
---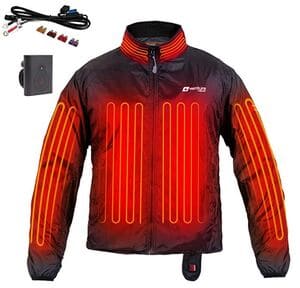 PROS
Lightweight;

Powered by motorcycles battery;

You can store it in an attached pocket;

Large heat area;

Connectable with other Venture Heat garments.
CONS
Should be worn underneath a protective jacket.
This heated liner for jackets is a great choice for staying warm on a motorcycle. It is very lightweight and comfortable as you are supposed to wear it underneath a protective jacket. It doesn't have a softshell outer layer that would protect you from wind or rain. However, it is the best option for motorcycles as it will keep you very warm on the open road.
Compared to other jackets, it has a considerably larger heating area with 7 heat zones – two on the sleeves, both sides of the chest, two panels on the back, one on the collar. What I like about this jacket liner is that you can control heat via the easy-access heat control tab. It hangs down from the jacket so you can select heat settings as you go.
LED light will indicate whether you chose a high, medium, or low heat setting. Furthermore, this jacket liner can be plugged right into your motorcycle's battery. This means that you don't have to worry about battery recharge. The wiring harness is included and you have to set it up only once.
Features
7 heating zones;
3 heat levels;
Wireless remote control;
Convenient self-contained pocket for storing;
1-year warranty.
Our score: 4.7/5
---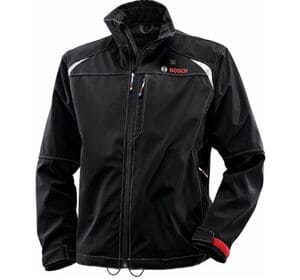 PROS
The design allows flexibility;

Wind and rain resistance;

Quick warming;

USB port for personal electronics;

Considerable durability.
CONS
Doesn't have a hood;

Expensive;

The battery is bulkier than usual.
I am sure there is no need to tell you what Bosch is known for. The quality of their gear extends to heated gear and this jacket is not an exception. Made from quality materials, it is well fitted and the design is thought out. The heated work jacket won't let you down even on the coldest of days.
The largest flaw of this jacket, in my opinion, is that it doesn't have a hood. Although the heat performance of this piece is excellent, the lack of proper protection around your head won't aid in keeping you warm. That being said, it is a great choice if you are looking for a jacket that will allow a good range of movement and flexibility.
Similar to other jackets, it has heating areas on your chest and back. You can select from three heat levels and stay warm for up to 6 hours.
Features
Heating elements in 3 heating zones (both sides of chest and back);
3 heating temperatures;
Up to 6 hours of heat;
Features a convenient front pocket;
USB port for other devices.
Our score: 4.6/5
---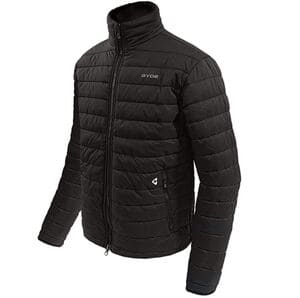 PROS
True to size;

Large heating coils;

Kit includes batteries and wall charger;

Puffer design;

Compact and warm.
CONS
Only one color is available;

Comes without a hood.
Gerbing specializes in heated motorcycle gear. Over the years they have proven that they are masters of their trade. This heated jacket by Gerbing can be worn as a regular jacket or underneath a motorcycle jacket. Due to its puffer design, it has excellent heat retention to keep your core warm. Furthermore, it has a wind and water-resistant finish. However, it won't prevent you from getting soaked when it's raining heavily.
The Gerbing microwire technology heating coils of this jacket are of excellent quality. They are distributed through both sides of the chest and back. Unlike most other jackets, you can choose from 4 heat settings – 25%, 50%, 75%, or 100% of the battery capacity. However, the jacket will last for only 2 hours in full heat mode. You can also purchase a Gerbing Thermogauge Controller to control the heat via a mobile app.
Features
Up to 8 h of heat;
Water and wind-resistant coating;
4 heat settings;
Smart heat control.
Our score: 4.6/5
---
#7- ORORO Heated Parka – Best Women's Heated Jacket ($$)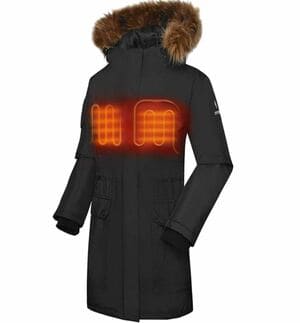 PROS
Great design;

Warmth enhancing features;

Multiple pockets;

Great heat coverage;

Discrete on/off button;

True to size;

Machine washable.
CONS
Some report issues with zippers.
Unlike a regular women's heated jacket, this heated parka will seem warmer due to its coverage length. ORORO is a trusted heated garment manufacturer and this parka is not an exception to their quality. There are various design features that provide a great user experience. One such thing is an adjustable and detachable hood with faux fur. This heated coat for women also has a large interior pocket.
The heat distribution of this jacket is quite standard – it has 3 heat zones. If you are looking for a jacket to wear in harsh weather – this might be a great choice for you. Although it doesn't have the best heat coverage, it has many features to ensure that the generated heat stays inside.
Features
Up to 10 hours of heat;
3 heat levels;
Detachable hood;
Fleece collar;
2-way YKK zipper;
Adjustable waist;
8 pockets.
Our score: 4.6/5
---
What To Consider Before Buying?
A jacket that generates heat is a modern solution for staying flexible and warm. However, not all of them are made the same. To get the best deal for your money, there are several things to think about.
Although I already mentioned a few things to look for, there are several more to consider. If you are a research geek like me, then read on to discover more details.
Heating Ability
Every piece of heated clothing should have an excellent heat performance. That's the reason you are buying it, right? However, that is not the case with some of the pieces available. Some are just better than others. There are several features that can indicate the quality of the heating abilities of the jacket you are looking at:
Heating coil zones;
Battery performance;
Heat control.
Most rechargeable heated jackets have three heating zones – over both sides of the chest and on the back. However, some jackets have extra heating areas. For example, heated collar or arms. Some even have heated pockets. If you get cold very fast, look for a jacket with more than three standard heating areas.
Battery performance is another element that influences heat performance. The more powerful the batteries, the better. It usually means more hours of heat or more heated areas. Most jackets use 7V batteries. In spite of that, you can find jackets that use 12 V batteries or even 20 V batteries like the Dewalt jacket.
The best heated jackets have multiple heating modes. Most of them will have three heating modes. I would say that that is enough to adjust heat to your needs. However, you can also get a jacket with 4 heating modes. Some even have smart features like pre-heat mode. It automatically heats the jacket on the maximum when turned on, and switches to a more economical mode after a while.
Most heated jackets can keep you warm for up to 8 hours on the lowest heat setting. When on the highest heating mode, most jackets will last for about 2 hours.
Heating Temperature
Most heated jackets perform well until 10°F (-12°C). Some with the more powerful batteries can generate more heat to let you feel comfortable in even colder weather. The trouble here is, that some manufacturers don't specify the heating ranges of their heated garments. In these cases, it is useful to read buyer reviews. In my experience, many of the top heated jackets can heat up until 131°F (55°C).
Material Of The Jacket
Even the best heating coils will fail at keeping you warm if the jacket doesn't have any insulation. A jacket with a softshell outer layer will protect you against wind and rain. Most such jackets have a fleece lining to ensure heat retention on the inside. Such a combination is best for flexibility in various weather conditions.
If you are looking for something more comfortable, opt for heated puffer jackets. They are excellent at heat retention. However, they won't protect you from heavy rain.
Maintenance
Finally, consider the maintenance of heated garments you are about to buy. All heated clothing should come with care instructions that indicate how to store and care for it. Some jackets can be machine-washed, while others can't. This feature might be important for those who seek convenience. The same applies to machine drying. While this can be convenient, it will shorten the life of any clothing. To get the most out of your jacket, I would recommend to hand-wash it with a mild detergent.
Head to this post where you will find a more thorough explanation of heated gear elements.
Heated Jackets FAQ
These are some of the most common questions regarding heated jackets. I hope you will find the answer to your questions if you still have any.
Are heated garments safe to use?
Yes, you are completely safe. All of the heating coils have a protective layer to keep you from direct contact. Furthermore, most coils have a waterproof casing. All heated clothing must qualify for safety standards to be sold. Therefore, if you buy your jacket from a trusted manufacturer, you are good.
How to safely use a heated jacket?
Although heated jackets are safe to use, there are several things to avoid for safer usage. First, don't use your jacket when it's wet. While most heated jackets are proofed, some aren't. Furthermore, one can never know if there are any defects in the waterproof casing. It is not safe to use any electronics while they are wet.
Can I sleep in a heated jacket?
No, that wouldn't be wise. Any electronic device can malfunction and you should always be aware of the temperature of the heating coils. Worst case scenario, they can catch fire.
Can I machine wash my heated jacket?
As previously mentioned, some jackets are suitable for machine washing, while others aren't. Look for care instructions that came with the jacket. This information should be indicated on the labels. To prevent wear and tear, I would recommend hand-washing with a mild detergent.
Wrapping up
Finding the most suitable heated jacket, vest, or hoodie for your needs might not be as easy as you think. I hope that this guide has helped you to identify the jacket you are looking for. In a nutshell, it is always best to invest in quality gear. It will help you to feel safe while wearing the jacket and of course – it will keep you warm. Do your research and select trusted brands. Consider the following features of the jacket you are about to buy:
Heating ability;
Heating temperature;
Materials used;
Maintenance and care instruction.
This should help you to narrow down your choices. All of the 7 jackets on this list are selected because they have proven their quality. Enjoy and stay warm!