Even the mildest weather can seem unbearable with the wind chills of high speed. And hands are the first place you start to feel the cold. The good news is that there is a neat and simple way to solve this problem even in the coldest of days – heated motorcycle gloves. Heated gear can do so much with so little. An easy and relatively inexpensive addition like heated gloves or glove liners will change the way you experience cold rides on your motorcycle. They will keep your hands warm and comfortable.
With the growing demand for heated gear, there are many manufacturers of heated gloves. Sometimes a wide range of choices can be confusing so we have hand-picked the best heated motorcycle gloves on the market. While providing the necessary level of protection these motorcycle gloves will warm your hands. They most likely will also become a must in your motorcycle travel gear list.
You can find a quick guide on how to choose heated gloves down below. To make things easier for you, our experts have picked the best heated motorcycle gloves that provide safety, comfort, and the possibility to warm your hands. We have selected top 5 heated motorcycle gloves based on buyer reviews, glove specifications, safety, and comfort level.
Related: Best heated gloves
What are the best heated motorcycle gloves?
After reviewing several different options and their user reviews, these are the best heated motorcycle gloves on the market:
Let's get started with the full reviews as well as the strong and weak sides of the five best heated gloves listed above.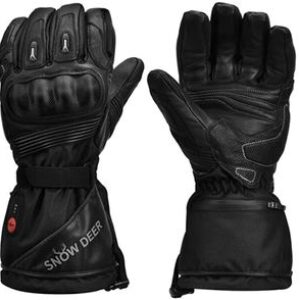 PROS
Heating throughout the glove;

Waterproof and windproof;

Great protection and durability;

Soft materials;

Batteries are fully charged within 3 to 4 hours;

Heating functionality will last up to 6.5 hours;

Adjustable wrist;

Touch screen functionality on the index finger and thumb.
CONS
Can feel bulky due to protective elements.
Based on customer reviews and our professional assessment, these gloves are one of the best heated motorcycle gloves available on the market. Snow Deer is a company that offers various heated gear options including good-quality heated gloves. This particular model is suitable for motorcycle riding and other sports as well. While the price is somewhat high, you won't regret getting these as the quality and comfort are made to last.
Heating and Power
Snow Deer's gloves are powered by external Li-ion batteries. Two rechargeable lithium polymer batteries are included. When the batteries are inserted you can choose one of the three heat settings according to your needs. Depending on the chosen heat level the battery gloves can last from 2.5 to 6 hours. The battery can be recharged within 3 to 4 hours.
The heat on these gloves is powered by far-infrared fiber elements distributed around all fingers right until the end of your fingertips. Heating elements will heat up the back and the front of your hand as well. You can control the heat easily with a touch sensor by choosing one of the three heat settings:
High: 140 – 150°F (60 – 65°C);

Middle: 122 – 131°F (50 – 55°C);

Low: 100 – 113°F (38 – 45°C).
The highest setting will use the battery in about 2 to 2.5 hours. If you choose the middle heat setting the gloves will last for about 3 to 3.5 hours. However, in the lowest heat setting they will last from 6 to 6.5 hours.
Protection and Comfort
These electric gloves are made from extremely durable sheep leather. Therefore, they provide long-lasting comfort with a great look. Stitches are reinforced and knuckles are protected with carbon fiber to ensure the highest safety.
The inside of these gloves is insulated with cotton, windproof and waterproof membrane as well as with fleece liners. This combination allows the electric gloves to dry quickly while keeping your hands dry and warm on the inside.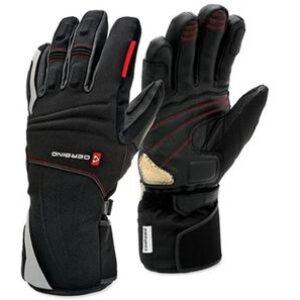 PROS
Very comfortable;

Connects to bike's power supply for endless heating;

You can get a separate

heat controller

to adjust heat.
CONS
Moderate protection;

The battery is not supplied;

Only one heat setting.
Gerbing is a known manufacturer among power sports heated clothing enthusiasts. The price level of these rechargeable heated gloves is in the middle to high range. These gloves are durable, reliable, and very comfortable. 
Heating and Power
Gerbing's gloves are powered by a battery that easily fits inside a designated pocket. They can also be connected to the bike's electrical system. If you choose to use the external battery, it is not included in the initial glove kit and you have to buy the 12v Gerbing batteries separately. Heat elements are made from steel fibers protected with a waterproof coating. Only one heat setting is available and it is turned on immediately after connecting the gloves to the bike's battery or the external batteries. However, you can get a seperate heat controller to adjust heat levels to your needs.
Protection and comfort
Made from quality materials, these battery-powered gloves are comfortable and durable. While the inside of the glove is waterproof, the outside layer can soak up in heavy rain. They are made in one standard size.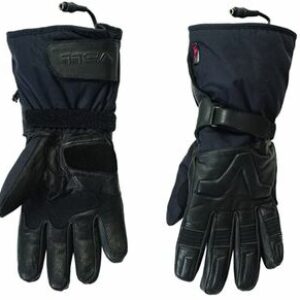 PROS
Great heat distribution;

Can reach high levels of heat;

Suitable for motorcycle riding and other sports.
CONS
Shouldn't be soaked as this will ruin their build;

Powered by the motorcycle's power supply only.
Volt is a manufacturer of heated gear with a great reputation for its heat and battery quality. These gloves come in a middle to high price range and offer good quality.
Heating and Power
Volt heated motorcycle gloves are powered by your motorcycle's battery. Since they are directly connected to the motorcycle's power supply, they generate a generous amount of heat. The gloves are known for their zero-layer heat system that allows the heat to be evenly distributed throughout your hands. They have a temperature controller that allows you to control the heat level.
Protection and comfort
Volt battery powered gloves are pre-fitted. This means that you won't have to stretch them to get a comfortable fit. They are made from full-grain durable leather that allows them to breathe and last long. An extra layer of protection is provided on the palm for safety.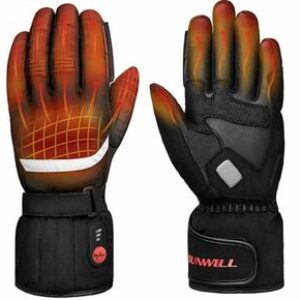 PROS
Heating on the back of the hand and around fingers;

Waterproof;

Made for motorcycles and suitable for other sports;

Batteries take 3 to 4 hours until fully charged;

Dual charger;

Index finger and thumb are touch screen compatible.
CONS
Raised hard knuckles can feel stiff to some.
Sun Will is a well known heated gear manufacturer.  Their products have been tested and approved by many customers. Sun Will's battery heated gloves are compact and comfortable while providing a great quality-price ratio. Let's see what they offer in terms of heating power, protection, and comfort.
Heating and Power
Sun Will Professional gloves are easy to use in various conditions and sports including motorcycling as they are powered by external batteries. You will get two rechargeable Li-ion batteries with a dual charger. The gloves allow you to choose one of the three pre-programmed heat settings. Depending on your selected heat level the gloves will last about 2.5 to 6 hours. A full charge of the batteries will take around 3 to 4 hours.
This particular model has an infrared fiber heating element covering both sides of your fingers and the back of your hand. Therefore, you will never get cold hands while wearing these gloves. They heat up rather quickly and you can adjust the temperature within three heat settings:
High: 140 – 150°F (60 – 65°C);

Middle: 122 – 131°F (50 – 55°C);

Low: 110 – 113°F (43 – 45°C).
The highest setting will drain the battery in about 2 to 2.5 hours. Meanwhile, if you choose the middle setting they will last for about 3 to 3.5 hours. Low heat setting will last for 6 to 6.5 hours.
Protection and Comfort
In addition to a pleasant warmth, these gloves also provide great protection and comfort. Made from sheep leather, the heated bike gloves are very durable. Furthermore, the back of the hand is protected by a hard shell and a shock-absorbing foam to make them as safe as possible
Comfort is guaranteed as the inside of the gloves are laced with cotton insulation and breathable fleece liner. Velcro design allows wrist protection and comfort.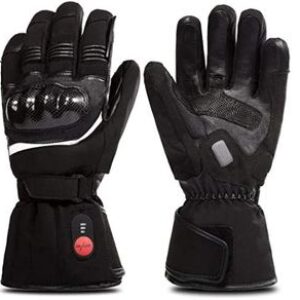 PROS
Extra thin;

Fast battery recharge;

Three heat levels;

Suitable for motorcycle riding and other sports;

Seven sizes are available.
CONS
Made from mixed materials (60% polyester and 40% leather).
Savior is another reliable brand with high-quality products. These gloves provide extra reinforcement for knuckles and are very reliable. The price level of these gloves is reasonable if all of their features are considered.
Heating and Power
Savior Heat rechargeable gloves are powered by a supplied battery that you can easily put inside the incorporated battery pocket. They heat up rather fast as this takes only about 30 seconds. The heat elements cover the back of your hand and all-around your fingers. Two separate batteries are included so you can change them for a longer ride.
Similarly, as with other gloves, these electric heated gloves offer three heat settings to choose from:
High: 140 – 150°F (60 – 65°C);

Middle: 122 – 131°F (50 – 55°C);

Low: 100 – 113°F (38 – 45°C).
Once the battery is drained you can fully recharge it within 2 to 3 hours. In the high heat setting you will have to change the batteries within 2 to 2.5 hours. In the middle setting the gloves will last for about 3 to 3.5 hours while on the low setting around 6 to 6.5 hours.
Protection and Comfort
These are one of the thinnest heated gloves for motorcycle riding available. Even with this build, these very thin heated gloves provide great comfort, protection, and warmth. They are insulated with soft cotton and are breathable, waterproof, and windproof. Made from lamb leather they are extremely soft and durable. 60% of the outside layer is made of polyester. The knuckles are protected with a carbon fiber protective shell.
Other options
If you already own a pair of good quality motorcycle gloves that you don't want to give up for the heated gloves, you can also choose a heated glove liner. In this case, make sure that the gloves you currently own are big enough to use with a liner. The heated glove liners come with their own batteries. They are quite thin and can generate a pleasant amount of heat.
How to choose heated motorcycle gloves?
There are several features to look for when choosing battery heated motorcycle gloves. This short guide will introduce you to the main features to consider. If you would like a more detailed buying guide with extra tips and tricks, see our full guide on choosing heated gear. If you prefer a shorter version, keep on reading.
Heated motorcycle gloves can be powered in two ways:
With a battery pack that fits inside the glove cuff;

Wired to your bike's battery.
Gloves heated by a battery pack are designed so that the battery easily fits inside a pocket located on the glove cuff. They usually last around 3 to 5 hours before you have to recharge them. This means reduced flexibility for longer trips.
In case you want to extend the heating time of the gloves, you can get a set of more powerful rechargeable batteries for your gloves.
Gloves powered directly by your motorcycle's battery have an endless power supply. They are connected with a wire to the battery and they will warm your hands while the bike is turned on. This means that you won't have to recharge the gloves. This option is more suitable for longer journeys.
Regardless of your battery preferences, heated motorcycle gloves must provide the same level of protection and comfort as regular ones. Here are some of the features to consider.
Protection
Even the most experienced riders can have accidents from time to time. Sometimes it's just out of your control as there are other drivers involved. Therefore, always wear gear that protects all of your body parts including hands. When choosing your pair of motorcycle gloves, look out for a bridge connecting the ring finger to the little finger, carbon-reinforced knuckles, and forearm armor.
Temperature control
Most of the heated gloves on the market have a temperature controller. Most often there are three heat settings you can choose from – low, medium, and high. This allows you to modify the warmth emitted by the gloves to make your hands as comfortable as possible.
Grip
The grip of the gloves is an essential element to great riding. To maintain control of your bike you must have a good grip at all times. Gloves with a reinforced palm will ensure a firmer grip and will eliminate most of the vibrations.
Fit
All motorcycle gloves must fit you well in order to provide the best comfort and protection. To ensure grip, they must be tight but not too restrictive. This is when the material and build of the gloves come into play. Some riders will find that they prefer a thick inner liner while some will find this feature restrictive.
Heated gloves FAQ
Here are answers to some of the most common questions that you might have regarding heated motorcycle gloves.
Are heated gloves safe?
Yes. We can say this with certainty because all of the heated motorcycle gloves are tested and need to comply with safety guidelines before they go on the market. Heated coils are embedded within the glove that is protected by various waterproof barriers. This means that they don't come in contact with your skin and there is no risk of them getting wet.
How to connect heated gloves to a motorcycle?
There are two types of gloves. Some of the gloves come with a battery pack that is incorporated in the design. This means that you won't have to connect them to your bike but will need to charge them from time to time.
Others will come with a 12V connection that you will need to attach to your motorcycle's battery connectors. To do this follow these steps:
Access to your bike's battery connectors while your bike is turned off;

Loosen the battery connectors and attach the glove's cable ring connectors right to the battery;

Make sure to tighten the motorcycle's battery connectors;

Position the cable through the seat so that it doesn't restrict your movement and can reach your clothing.
As long as your battery keeps running, the gloves will be powered for safe and warm riding.
How do heated motorcycle gloves work?
Heated motorcycle gloves are connected to a power source that can be either a rechargeable battery or your bike battery. Through the generated power, they will begin heating up your gloves until they reach the selected temperature setting. You can use the temperature controller to adjust the heat intensity.
How do you wash heated gloves?
It is best to hand-wash your heated gloves in cold water. Use mild detergent to avoid damages to the materials. Also, never wash while the batteries are inside the gloves. You can clean the gloves with a damp cloth to avoid any shrinking or other changes.
Conclusion
We hope that our list of the best heated motorcycle gloves has helped you to find your own pair based on your unique needs. All of the included electric gloves are safe and reliable and will keep your hands warm while providing a high level of protection. Our personal view is that Snow Deer Electric Motorcycle Gloves are the best heated motorcycle gloves on the market.
Remember that the chosen pair must fit snugly. In case you have any questions or comments, feel free to leave them below.