Heated gear is a relatively new trend that has gained its popularity across multiple industries. Although it comes in various shapes and purposes, we will mainly discuss heated garments such as heated gloves, socks, vests, jackets, and many more. So how do they work? What's behind the technology and how safe is it? We will cover these and many more questions that you might have regarding heated gear.
Heated garments will keep you warm during cold-weather activities. That might be skiing, motorcycle riding, trekking, winter biking, snowmobiling, fishing, and others. Apart from that heated gear is great for outdoor workers that struggle with stiff hands or cold in general. Without a doubt, heated gear generates heat to keep you warm regardless of circumstances.
How to choose heated gear (heated gloves, socks, vests, etc.)
There are several things you should consider when choosing your heated gear. Your budget, heat source, battery life, material, fit, and other features that might be specific to the type of heated gear you are looking for. First and foremost you should consider the heat source of the heated garment. This is crucial as it impacts the price, materials, usability, and materials used. To understand various heating options, let's explore how heated gear works.
How does heated gear work?
Heated gear can generate heat through various technologies. The most common type of heated gear is powered by an electric current supplied by a power bank.
Electrically heated gear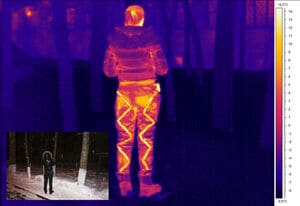 Electrically heated gear is the most popular type on the market. And there is a good reason for that. It is rechargeable, reliable, and very warm. Furthermore, most electric heated garments such as heated gloves allow you to choose from several heating modes.
The working principle of such gear is very simple. There are thin wires built into the garment that generate heat. When a low electric charge passes through the wires, they heat up. A battery connected to the garment supplies the necessary electrical energy. Therefore, you get a steady supply of pleasant heat to your body.
The battery that comes with such gear should be connected to the gear when you use it. Usually, there is a special pocket designed to fit the battery. Although at first, this might seem inconvenient, the battery is not as bulky as you might think.
Some heated gear that is meant for use on a motorcycle is powered directly by the motorcycle's battery. In this case, you can connect the garment to the battery with the provided wire. This allows an endless power supply for as long as you like.
Chemically heated gear
Chemically heated gear has special pockets for single-use warmers. These warmers provide heat through the chemicals in them. A traditional disposable warmer contains iron, water, cellulose, activated carbon, vermiculite, and salt. When this mix of chemicals is exposed to oxygen, a reaction occurs. The most popular chemically heated warmers are HotHands warmers.
Some such warmers start heating up when they are twisted or pulled. It serves as a triggering action to start the chemical reaction in the warmers. This reaction creates a pleasant amount of heat for several hours. Even so, it doesn't provide the same amount of heat that electrically heated garments do. In addition to that, they are not environmentally friendly. Due to their nature, you must replace each warmer after every use.
Heated gear with stored heat packs
This type of heated gear is somewhat similar to chemically heated garments. They use special gel pouches that store heat. Before going outside, you must preheat the pouch in a microwave. The gel-filled pouch will store heat for about 30 minutes to 2 hours. This depends on the size of the gel pocket as well as on outside conditions such as insulation and wind.
Which type of heat source is better?
Each of us has their preferences. Therefore, there is no single answer to this question. However, in our experience, chemically heated clothes such as gloves don't distribute heat as evenly as electrically heated gear. Furthermore, they ensure a relatively small area of heat. In addition to that, you can't control the level of heat.
Given all of the reasons listed above, our favorite heated gear is electrically heated gear. It provides more options and more of the heating surface.
Electrically heated gear – all you need to know
The first thing that most people ask is about the safety of electrically heated gear. Like all electrical items, heated garments must pass safety tests. The heating coils inside the garments are well insulated and protected by a waterproof membrane to keep you safe. Therefore, all electrical connections and wires in the garments are safe. Your skin will never come in direct contact with the wires.
What about the battery?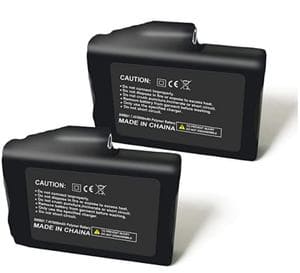 Another hot topic is the battery. All electrically heated gear gets its power from external batteries. Most commonly, there is a separate rechargeable battery supplied with the garment. The garment is connected to the battery, thus ensuring heat supply. You can insert it in a special pocket in the garment and leave it be.
You can recharge it when the battery is empty. Depending on the size of the battery and heat setting, it can last for about one and a half to six hours. You will find that most heated clothing comes with 3 Volt, 5 Volt of 7 Volt batteries. They are the easiest to use and provide a decent heating time. You can always opt for the second set of batteries. In this way, you can prolong the heating time by replacing the drained battery.
Also consider that when using heated gear for intense activities such as skiing on working, you probably won't need the highest heat setting. You might even have to turn them off after your body is warmed up.
In case you are looking for a longer heating time, you can buy more powerful batteries such as 3000 mAh rechargeable batteries for heated garments. However, ensure that the connection fits your garment.
Now, let's talk about the cost of electrically heated gear.
How much will it cost?
When it comes to heated gear, you will get what you pay for. If you are looking for well made, long-lasting, and comfortable heated gear, you will have to pay a higher price. The higher the price, the higher the quality and performance. The good news is that you can still buy heated gear whatever your budget. It should be noted that budget heated gear usually has a shorter life and could let you down when you need it most.
That being said, most heated gear can be categorized into three price categories. Let's see the most common differences in three price ranges.
Price range $180 and above
This is the best quality heated gear on the market. Most of the offered gear at this price level has very high performance and great features. Moreover, it has heating systems that are designed to last. It is well-fitted, comfortable, and has the highest battery performance.
Most garments within this price range have temperature controllers that enable you to choose different heat settings. This is the most suitable choice for those who are looking for high-end heated gear that will last.
Price range $100 – $180
At this price range, you can still get pretty decent heated gear. It is also the most common price range for electrically heated garments. Therefore, you will find the most options to choose from. Most of the gear in this price range will have several heat settings to choose from.
Price range $50 – $100
You will be able to find some good heated gear within this price range. However, it depends on the type of heated gear you are looking for. Most of the garments in this price range have decent functionality and performance. However, be aware that cheaper garments can disappoint you in their performance. If you are on a budget and are looking for the best performance, you might want to consider getting something of better quality.
Materials and fit
The material choice for each garment will be different. It also depends on the cost and purpose of the gear. If you will use that gear in snow or wind, you should look for a waterproof or wind-resistant shell.
Most heated gear is made either from synthetic materials or leather. Wool, fleece, and leather are common materials for various heated clothing. Keep in mind that leather clothing is more sturdy and tear-resistant. If you are choosing that geat for use on a motorcycle, you should opt for the best quality gear that is made from leather and has extra protection.
In general, most heated clothing manufacturers provide size charts. This makes it easier to choose heated gear that fits you best. You can measure your size with a fabric measuring tape. However, not all garments come in different sizes. Therefore, check if the gear you are looking at comes in one size fits all or has multiple sizes.
Other features
Depending on the type of heated gear you are looking for, there might be different features. The most common feature that is very useful is an integrated heat controller. It allows you to choose the desired heat level. Usually, you can choose from three heat settings. Alternatively, some garments have heat control that allows you to set individual temperatures in the provided range.
How to care for heated gear?
Caring for heated gear can prolong its life. Most heated gear comes with care instructions with detailed information. However, there are some general tips that you can follow to keep your gear in the best shape.
When it comes to heated gear made from leather, make sure to condition and waterproof it right away. This will ensure the best protection and performance. Condition the garment every two to three months during moderate use.
If you need to wash the garment, use a soft cloth with a mild detergent to wipe off any dirt or sweat. In case you need a more thorough wash, you can hand wash the garment with a mild detergent. Always remember to remove any heating packets or batteries.
Conclusion
We hope that our guide helped you to pick heated gear for your needs. All of the above-mentioned tips and suggestions are the conclusion of the personal use of heated gear. We have found that heated gear can be a great solution for a more pleasant experience of winter activities. Despite the surrounding questions and doubt, heated gear provides a great experience.