Looking for a little extra heat for your cold feet? Heated insoles are the perfect solution. They will keep your feet nice and warm even on the coldest of days. You can choose from several models with different functions. You can also opt for single-use self-heating shoe inserts. Regardless of your choice, they are perfect for extending various outdoor experiences in cold weather.
To make things easier for you, we will share our advice on choosing the best heated insoles. Moreover, we will share our list of the top 10 heated shoe insoles. The listed insoles will serve you well as they have been favorably rated by their users. Our own favorite pick for the best heated insoles are Hotronic FootWarmer S4 Universal. But before getting into more detail, let's go through some key points to consider.
What to look for when buying heated insoles?
There are several things to look for when choosing heated shoe insoles. Therefore, we will start by briefly exploring the main considerations you should think about.
Self-heating vs. electric insoles
Foot warmers can generate power either through chemical reactions or with the help of electricity. The former type of heated shoe insoles is single-use. Self-heating shoe insoles can usually provide around nine hours of moderate heat. This option is great if you are looking for occasional use of foot warmers and don't mind throwing them away after each use. However, if you are looking for a more long-term solution, then battery heated insoles are the way to go.
Electric insoles are rechargeable and come with two batteries – one for each insole. A charger is also supplied. You can use these insoles for months and even years.
Heat control setting
Battery heated insoles come with a variety of features. One of the most important features is heat control. It allows you to choose a heat level according to your preferences. You can usually choose from three heat settings – high, medium, and low. It should be noted that each manufacturer has slightly different temperature ranges for each setting.
Activation and control
You can activate disposable heated insoles by simply shaking or bending them. More detailed instruction is included with each pair of insoles. This motion activates the chemical reaction that slowly radiates heat. Heat is released until the reaction is through.
Unlike with chemically heated gear, you can activate battery heated insoles with a button. Both types of insoles will reach the intended temperature in about 15 to 20 minutes.
Size
Most manufacturers make thin insoles that can easily fit in a regular pair of shoes. You can trim some of the insoles to adjust their size. In case you need to do this, check if you are not trimming any heating coils in the insoles. Some models come in different sizes so you can choose the right size.
Batteries
Electrical insoles usually utilize lithium-ion polymer batteries. This means that are rechargeable within a few hours. Heating time depends on the capacity of the batteries. You can always buy a separate pair of batteries to use when the original batteries are empty. However, most batteries will last for about 7 to 15 hours. You can recharge your insoles hundreds of times before the battery wears out.
Now that you know the main points to consider, let's see the 10 best heated insoles on the market as of 2022.
What are the best heated insoles?
After careful consideration of several models of heated insoles for boots and other shoes, we have concluded that these three insoles are the best value for the money. Each model varies so we will also discuss their individual features. We will also look into 7 more battery foot warmers that offer great quality for the money. Based on buyer reviews and our own evaluation, these are the three best heated insoles on the market:
Let's explore the strong and weak sides of each of these heated shoe insoles.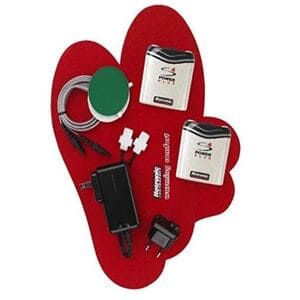 PROS
4 heat settings;

21 hours of heat on the lowest setting;

Can warm until 178 °F (81°C);

Great user experience;

Very suitable for long hunting trips.
CONS
Hotronics is a well known brand when it comes to heated foot gear. Therefore, it's no surprise that their FootWarmer S4 Upgraded model exceeds the rest of the available options on the market. With up to 21 hours of heat. These are the best heated insoles for hunting, working, skiing or other time-consuming activities.
One of the best things about this product is that it allows you to choose from 4 heat settings. Most other models offer only 3 heat settings. This extra 1 heat setting ensures that the amount of received heat is perfect for your needs. Without a doubt, these are the priciest insoles on this list. However, we are sure you won't be disappointed as they are worth every penny.
Features
21 hours of heat on the lowest heat setting, 10 hours on medium setting, 7.5 hours on medium high setting and 2.5 hours of heat on the highest heat setting;
Trimmable insole. You can adjust the size by cutting the edges of the provided insole;
Lasting battery. These insoles come with a battery pack that can be recharged about 500 times;
178 °F (81°C) on the highest heat setting.
Our score: 4.9/5
---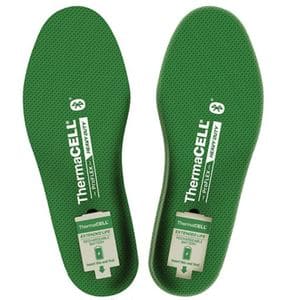 PROS
App controlled heated insoles;

Great cushioning and stability balance;

Built-in battery;

Fast charge technology.
CONS
Some buyers reported an irregular Bluetooth connection.
ThermaCELL has made some great models of heated shoe insoles. However, ThermaCELL Proflex heated insoles are by far the best. They are perfect for outdoor activities as they are highly water-resistant and the heat can be adjusted through the mobile app. You can connect the app to the insoles via Bluetooth. The benefits of this are great since you can easily control the heat via your phone.
These app-controlled heated insoles feature powerful batteries that will warm your feet for up to 6.5 hours. Furthermore, you can fast-charge them up to 80% in just 80 minutes. This means that you will be able to return to your activities sooner than with many other heated shoe insoles. Furthermore, they offer great dexterity and are very durable.
Features
Heat control via mobile app through Bluetooth;
3 heat settings. Low heat setting 90 °F (32°C), Medium setting 100 °F (38°C), and High setting 111 °F (44°C);
Built in battery. The battery is seamlessly incorporated into the insole and you won't even feel it;
Around 500 times of recharge;
Fast charge option. You can fully charge these battery insoles in around 2 hours. This is significantly less than most other models.
Our score: 4.8/5
---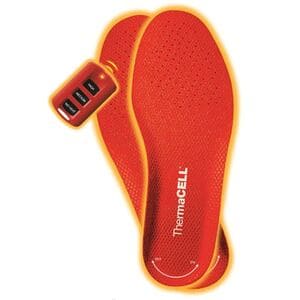 PROS
3 heat settings;

Comes with 2 chargers (1 for wall and 1 for car);

Built-in battery;

Trimmable to adjusted size.
CONS
Charging takes about 4 hours.
These ThermaCELL insoles are quite similar to the ones above. The main difference is that you can't control the heat through the app. Instead you can adjust the temperature with the provided controller. Similarly to ThermaCELL heated insoles, these insoles have three heat settings.
One of the best things about these insoles is the built in battery. This means that you don't have to worry about the battery slipping out of its place. Furthermore this product comes with two chargers. You can use one of them on your wall and leave the second charger in the car for efficiency.
Features
3 heat settings;
Up to 5 hours of heat;
Has a remote heat controller.
Our score: 4.8/5
---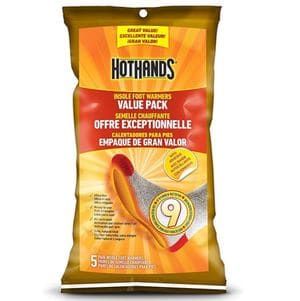 PROS
Very inexpensive;

Adhesive coating;

Up to 9 hours of heat;

No need for charging.
CONS
Single-use insoles;

You can't adjust heat.
The reason we chose these self heating shoe inserts is that they provide great value for the money. This is by far the best option if you are on a budget. Furthermore, this is a great choice if you are looking to use insoles only for a couple of times. Keep in mind that each pack of insoles is single-use. Therefore, this pack of 10 winter heated insoles will serve you 10 times for 9 hours.
Features
Chemically heated;
Adhesive coating;
Disposable;
Single size;
Heat up in about 15 to 30 minutes.
Our score: 4.7/5
---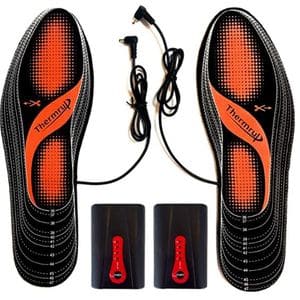 PROS
Great price;

Waterproof and durable;

4 heat settings;

Comes with gaiters to hold batteries.
CONS
The insole can slip from its place;

Remote heat control not possible;

Batteries need to be fixed on your ankles.
Thermrup is the best rechargeable heated insoles if you are on a budget. For their price, they provide great value. They have 4 heat settings that offer a sufficient amount of heat.
The batteries of these insoles are not built-in. Instead they are held by gaiters strapped around your ankles. Undoubtedly this is an inconvenience. But given the price of these insoles, this is a small sacrifice to make.
Features
Ankle strapped batteries;
Washable both by hand and machine;
Rubber heating elements that heat the entire foot.
Our score: 4.5/5
---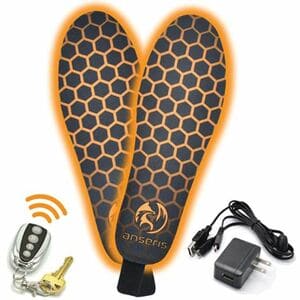 PROS
Adjustable size;

Heats up to 130 °F (54°C);

3 heat settings.
CONS
Another option to consider is these rechargeable heated insoles by Outrek. While the manufacturer is less known, these insoles do provide reasonable quality. You can easily trim them down to adjust their size. In addition to tah, they are padded for better comfort.
You can activate the heat with wireless control. Unlike most other products, Outrek's can heat up to 130 °F. Moreover, you can choose from 3 heat settings.
Features
Built-in battery;
Wireless heat control;
Heat up to 130 °F (54°C).
Our score: 4.3/5
---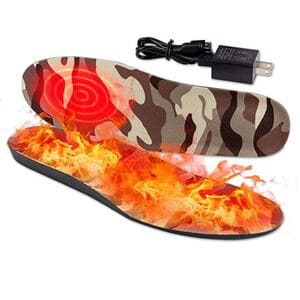 PROS
Decent heat level;

Low price;

Built-in battery;

Silicone protection for battery.
CONS
Battery drains faster than it should.
These wireless heated insoles are controllable via app. This is why they made it to this list. It is a great feature that allows extra convenience. Furthermore, the battery is built in the insoles. It is also protected with a silicone cap that will prevent the battery from damage in mild humidity.
Features
3 heat settings. The highest heat level reaches 130 °F (54°C);
Trimmable for size corrections;
Built-in battery.
Our score: 4.1/5
---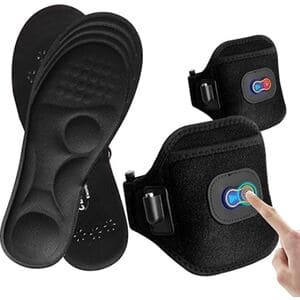 PROS
Memory foam for extra comfort;

Trimmable for size corrections;

Anti-slip coating.
CONS
Battery attached to the ankle.
What we like best about these inserts is the memory foam and anti-slip features. The memory foam makes these heated shoe insoles extra comfortable. Meanwhile the Silica gel coating on the bottom ensures that the insoles are fixed and not moving.
Features
Top layer has memory foam to ensure great comfort;
3 heat settings;
Heat up to 131 °F (55°C).
Up to 6 hours of heat;
Ankle straps for holding battery and heat control;
Silica gel coating on the bottom for anti-slip properties.
Our score: 4.0/5
---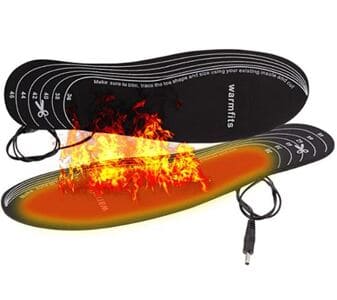 PROS
Trimmable for size corrections;

Thin.
CONS
Battery attached to the ankle;

Not as warm as other battery-operated insoles.
These insoles in another great option if you are on a budget. They perform decently given their price level. The maximum temperature these insoles provide can be insufficient for very cold weather.
Features
Heat up to 120 °F (49°C);
Up to 6 hours of heat;
Washable by hand.
Our score: 4.0/5
---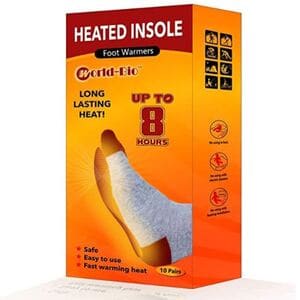 PROS
Self-heating shoe inserts;

No need to recharge;

Great value for the money.
CONS
These chemically heated insoles are a great alternative to previously mentioned HotHands warmers. You can activate them by exposing them to air. 40 pack provide the best value and they are almost half of the price that HotHands warmers come at.
Features
Up to 8 hours of heat;
Heats up in about 5 to 10 minutes;
Eco-friendly iron ingredients.
Our score: 4.0/5
---
Heated Insoles FAQ
If you still have questions regarding heated insoles, you might find answers in our FAQ. Apart from this, you can find more information on choosing heated gear in our choosing guidelines.
Are heated shoe insoles safe?
Yes. Battery foot warmers have to pass certain safety tests just like any other heated gear. Chemically heated insoles don't have harmful chemicals in them and they are well contained in any case. Furthermore, electric insoles are well insulated and you will never come in direct contact with heating coils.
How comfortable are these insoles?
That depends on the particular model. However, most insoles are thin and comfortable. Furthermore, many of them provide great cushioning. Higher quality insoles shouldn't slip at all as they are covered with anti-slip materials.
How much do heated insoles for boots cost?
The price range of any heated gear including insoles depends on its quality. The lower quality insoles might cost around $50. Whereas higher quality models can cost more than $250. However, this doesn't mean you have to break the bank to get quality insoles. Many insoles featured on our list are affordable and provide great quality.
How do heated insoles work?
They are inserted in your shoes, boots, or other suitable footwear. They distribute heat throughout your feet. Some electric heated insoles have a temperature control option. This allows you to choose the desired temperature range.
There are several types of heated insoles. They mostly differ by the location of the battery.
Insoles with Battery and Cord
The battery pack on these insoles is attached to your ankles. Each insole has a separate battery and a special strap to use around your legs. Battery strap is usually made from velcro and mesh strap to hold everything in place. Therefore, you shouldn't be uncomfortable while wearing these.
You can connect the battery to the insole with a cord. Heat distribution with this type of electric heated insoles is even. Some models have separate temperature controllers. Whereas others have integrated the controller right into the strap.
Most of the separate heat controllers work within three feet range. You should also make sure not to lose the controller. Controllers need AA batteries to work. They usually last for about 2 seasons before you need to replace them.
Insoles with Integrated Battery
Some of the higher end insoles have a built-in battery. This means that the insole contains the battery itself. There is a special place where you put the recharged battery. However, some models have integrated the battery right into the materials. Therefore, you can recharge it by plugging in the charger right into the insole. Most batteries will last for about 500 times of recharging.
Final tips and tricks
Always avoid getting the heated insoles wet unless they are chemically heated foot warmers. Getting battery powered insoles wet might result in permanent damage. In case they get damp, you should take them out immediately and dry them.
One more thing worth noting is the trimming of insoles. You can trim most of the insoles to ensure the right fit. However, never cut past the line where heating elements begin. If you do, you will damage the insoles. Most models have indicated this critical cutting line.
Conclusion
There are many great heated shoe insoles. However, we consider Hotronic FootWarmer S4 Universal as the best ones. Although they are pricey, they do provide great value and will serve you well. Furthermore, they allow staggering 21 hours of heat. This is way longer than most other heated shoe insoles.
In case you have any other questions, feel free to leave a comment below.