Looking for the best heated vest to keep you warm while hunting, skiing, riding your motorcycle, or engaging in any other cold-weather activity? Then you have come to the right place. Although there are countless electric vest options, they are not all the same. Therefore I have made this review of 11 top heated vests.
Along with individual reviews of top models, I will discuss how to choose the right one for your needs. In addition, you can find a FAQ section below this article to help you navigate the battery powered vest market. If you are looking for a quick answer, then the following 5 heated vests are the best in their category.
Scroll down to the bottom of this article to find a detailed guide on choosing your own vest. Let's get started with the reviews.
Best heated vests for men
These 5 vests are great for men. Their build and quality ensure the best fit and performance. The best one in this category is made by Ororo.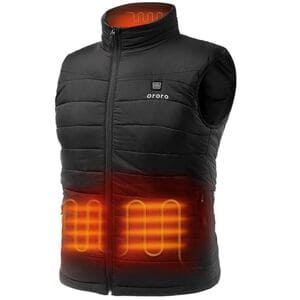 PROS
Machine wash resistant;

Neat design;

4 heating elements;

Heat in the back of the neck;

High resistance to weather;

Comes with a battery.
CONS
As far as I can tell – none.
Some battery-powered vests are more suited for harsh weather than others. Ororo's vest is on the top of this list because of its resistance to harsh elements. It can withstand various conditions and will serve you well for a long time. Furthermore, it has great water resistance so you can use it on a rainy day to keep you warm and toasty. This resistance makes it great for activities like skiing, fishing, or hunting.
Another reason for this vest being my favorite for men is its design. It's simple and stylish. Without a doubt, you can wear it for a casual walk or any other activity. It looks great and nobody will tell that it has batteries.
Heating elements on this vest are located right where you need them the most – across the collar, mid-back, and underneath both front pockets for core warmth.
Features
Heating elements across the collar, mid-back, and lower front.
Up to 10 hours of heat;
USB for charging phone;
Can endure more than 50 machine washes.
Our score: 4.9/5
PROS
Made from soft fleece;

Great insulation;

Medium thickness.
CONS
This USB heated vest by Arris is quite affordable for the quality it offers. Although it is listed as a men's vest, women and children can use it as well. What I like the most about this vest are its heating elements. Both sides of your lower back and lower front, as well as the upper back and neck area are heated. Therefore, you will never get cold. With the raised heat levels this vest allows more heat than most other vests.The main setback for this model is that it comes without a battery. While that's somewhat inconvenient, you can purchase the most suitable power bank for your needs. Just make sure to select a power bank that's 5.0 – 7.4V like this one.
Features
Up to 176 °F (80°C) of heat;
Built-in thermal protection for overheating;
Up to 10 hours of heat
Our score: 4.9/5
---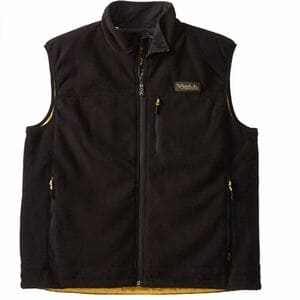 PROS
Wind resistant;

Soft fleece;

Comes with a battery;

Very comfortable.
CONS
Hand wash only;

No water resistance.
Volt is a known heated gear manufacturer that excels in quality heated gear. In particular, their battery powered handwear is recognized among many reviewers and customers. Their USB heated vest is no exception. This heated fleece vest is an excellent choice if you appreciate convenience and comfort. It is very suitable for hunting and skiing as it can be comfortably worn underneath other jackets.
The heating elements warm both sides of your chest and in between your shoulders. What I like about this vest the most is its zero layer heat system. Its location over the heating elements allows for the best heat transfer right to your body. Therefore, it doesn't lose its comfort while maintaining great heat performance.
Features
4 panel heat system;
Zero layer heat system for maximum heat transfer;
Up to 6 hours of heat.
Our score: 4.8/5
---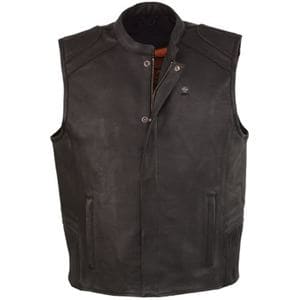 PROS
Made from leather;

Extremely durable;

Good looking;

Battery pack included.
CONS
It is quite obvious why this model made it to our list of the best heated vests. It is made from leather and its quality exceeds any other vest on this list. However, it's not the top choice because of its price. But make no mistake, this vest is worth every penny if you are willing to invest.
It's worth noting that this is the best heated vest for motorcycling and hunting. You can connect it directly to the motorcycle's battery. In addition to that, it has a manly design and it is very durable. It's made from smooth leather that will serve you for years. The vest has many pockets including a dual side concealed weapon or ammo pocket. It also has another pocket with a wire feed and a waterproof pocket for your phone and the battery.
Features
Heating elements on the back and front;
Multiple pockets for various purposes;
Stylish leather design;
Additional battery connection harness for motorcycles.
Our score: 4.8/5
---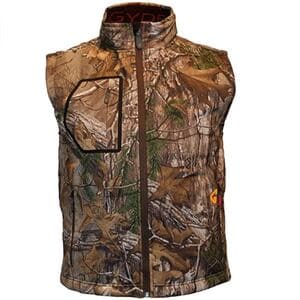 PROS
Camouflage pattern;

4 heat settings;

Stretchy softshell fabric;

Very durable;

Water resistant and windproof;

Comes with a battery;

Neck heating panel extends to the front.
CONS
Gerbing produced some great heated clothing for motorcycles. Now they extend this mastery to other items such as this usb heated outdoor vest. The main reason I chose to include it is because it is made from a very durable fabric. Moreover, the softshell can stretch in all four ways, making this vest perfect for being outdoors.
The heating panels are strategically placed on the neck, the upper and mid back, and chest. In contrast to most other vests, Gerbing's vest has 4 heat settings. This vest does a great job keeping you warm while hunting or being outdoors.
Features
Comes in 4 sizes;
Up to 8 hours of heat;
Has 4 heat settings;
4 large heating panels.
Our score: 4.8/5
---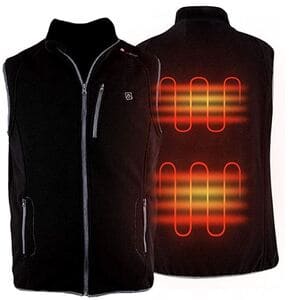 PROS
Comes in 5 sizes;

Very comfortable;

Made from fleece.
CONS
Only 2 heating areas for black model;

No water resistance.
PROSmart's vest is another great choice with similar features as the above mentioned rechargeable heated vests. Similar to many other models, a power bank provides the energy to heat it up. Therefore, you can also use it to charge your phone.
It's worth mentioning that it has two models. If you are looking for more heat coverage – choose the grey model. The black model offers heat only on the upper and lower back.
Features
Up to 10 hours of heat;
2 or 4 heating zones depending on the model;
3 heating levels;
Up to 140 °F (60°C) of heat;
Lightweight.
Our score: 4.5/5
---
Best heated vests for women
These 5 vests are perfect for women. They look great and have many useful features. Let's review each one of them.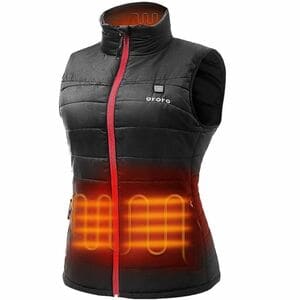 PROS
Machine wash resistant;

Lightweight;

Stylish;

USB port for charging phones;

Comes with a battery.
CONS
Ororo's vest was the first choice for men. It's also the first choice for best heated women's vests. There are many reasons why this is the best heated vest for women. The most important ones are quality, style, comfort, and endurance. This vest delivers across all features one might expect in a battery-powered vest.
Just like the first reviewed vest, this model comes with a heated neck area. In fact, it has heat across 4 areas – neck, lower back, and underneath both front pockets. This neat placement ensures that you remain warm regardless of the weather. Furthermore, you can expect up to 10 hours of heat on the lowest setting.
Features
Heat elements cover the neck, lower back, and lower front;
Heat control button on the front;
USB port for phone charging;
Up to 10 hours of heat;
Up to 131 °F (55°C) of heat;
Machine washable.
Our score: 4.9/5
---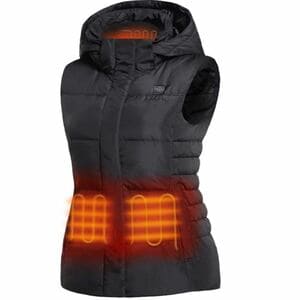 PROS
Water resistant;

Very warm;

Down filled;

Machine washable.
CONS
This vest is quite similar to the aforementioned model by Ororo. However, it has some extra features that provide greater comfort and warmth. The most important one is its insulation and fabrics. It is made from a certified waterproof shell that will protect you in the rainiest of days. Furthermore, it has an extremely lightweight and effective insulation made of duck down. These features ensure warmth even without the electrical heat.
The heating elements are located on the collar, the upper back and underneath both front pockets. In combination with the excellent insulation, this vest is a great choice for frequent use in cold weather.
Features
Duck feather insulation;
Heated collar, both sides of the lower front and the upper back;
Up to 10 hours of heat;
3 heating levels.
Our score: 4.9/5
---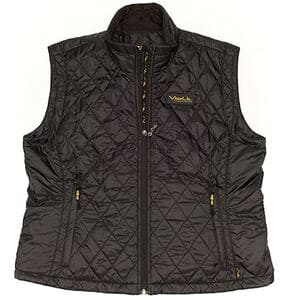 PROS
Unique design;

Extra insulation.
CONS
Volt's heated gear is quite popular for a reason. The quality of their gear is well recognized. This particular vest is not an exception. The Cracow vests's maximum temperatures are above the average in the market – 170 °F. Furthermore, the heating panels warm up your chest and a large portion of your back.
This model features a zero layer heat system. It allows you to move comfortably while receiving heat effectively. Moreover the garment has 80 grams of fiberfill insulation. This means that you will stay warm even if you turn off the heat.
Features
Up to 10 hours of heat;
4 heat settings;
Up to 170 °F (77°C) of heat;
Zero Layer heat system.
Our score: 4.7/5
---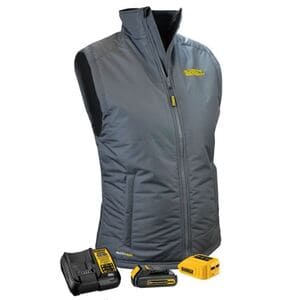 PROS
Very durable;

Comes in 4 sizes;

2 USB ports.
CONS
Expensive;

Only up to 7 hours of heat (compared to max 10 hours with other models).
Dewalt is a company that manufactures tools and gear for professional industrial workers. Therefore, their heated gear is very sturdy and able to withstand various conditions. This ability makes it perfect for activities such as skiing, motorcycle riding, and hunting. What I like most about this vest is that you don't need to worry about ripping its materials. As mentioned before, it's very durable and you don't have to be very careful while using it.
Features
2 USB ports;
Up to 7 hours of heat;
3 heating areas – both sides of chest and mid-back.
Our score: 4.6/5
---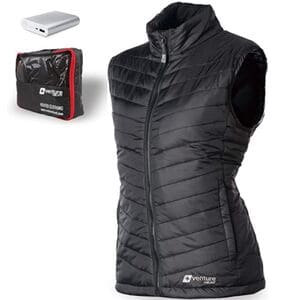 PROS
Wind and water resistant;

Stylish;

Comes with a battery;

Machine washable.
CONS
Top layer of fabric can tear easily.
This vest is a safe pick for any woman. While it doesn't differ from other vests with anything particular, it does have the standard features that one would expect. Moreover, its price is a bit lower than most other models and you can also buy it in white. It is a great heated ski vest and you can use it for any other cold outdoor activities.
Features
3 heat sections – upper to mid back, and both sides of chest;
3 heat settings;
Up to 12 hours of heat.
Our score: 4.5/5
---
What You Should Know Before Buying?
There are several things that I recommend considering before buying a heated vest. Safety is usually the first on the list because it's a common question that many people have regarding electric gear.
Safety
Without a doubt safety is an important thing to consider. Spending your time in wet conditions while wearing heated gear can seem somewhat dangerous. However, you should always keep in mind that any heating clothing has insulation around heating wires. A waterproof membrane coats all wires to ensure that they never get in touch with water. Furthermore, electric garments are vigorously tested to ensure the best performance and safety.
Some of the vests in our list have a waterproof shell. This is useful if you get caught under a quick shower. But keep in mind that it is always best to wear a proper waterproof and windproof jacket on top. This ensures the best protection and heat trapping.
Power
Most heated vests get their power from rechargeable batteries. There is a special battery pocket where you can place the battery. When the battery is connected and turned on, you can select the most suitable heat level and the vest will start heating.
Most vests can heat you for up to 10 hours on the lowest heat setting. However, the exact time depends on the battery capacity. You can always bring spare batteries to prolong the heating time.
Heated vests for motorcycles typically have a power draw of about 7A. Motorcycle's battery has about 28A available. Usually your bike requires around 12A for lights, indicators, ignition, etc. Therefore, that leaves you with about 16A to power your heated accessories. Vests and jackets have the largest power draw. That leaves you with enough power for other accessories such as heated gloves.
Maintenance
All heated garments come with care instructions. They will state whether you can machine wash your garment. Some heated clothing requires hand washing. It should be noted that machine washing will reduce the life of heated gear. In fact, of any clothing. Therefore, I prefer to hand-wash my heated clothing to prevent any unnecessary wear and tear. Use only mild detergents to provide the best care.
Keep heated gear out of direct sunlight and heat while storing it. This will prevent any bleaching or material degradation. Disconnect the battery to prevent shortening its life.
Heated Vests FAQ
In case you have some unanswered questions, look through these FAQs.
How does it work?
Heated vests generate their heat from external power sources such as rechargeable batteries. You can turn on the heat when the batteries are connected to the vest. Usually there are several heat levels you can choose from. Most heated vests have a button to control the heat level and turn the vest on or off. When the batteries are drained, simply recharge them to get the vest going again.
How much do heated vests cost?
That depends on the model and manufacturer. It also depends on the quality of the gear. Lower quality vests can cost around $50. We haven't featured any of them because they are not durable and they have a short life cycle. Higher quality vests start from around $100. However, some vests can come at $300.
How comfortable are electric vests?
The comfort level depends on the model. To ensure the best comfort, look for soft and stretchy materials. Fleece can be a great choice for extra comfort. However, it is not waterproof. Look for a waterproof shell to ensure best use under rainy conditions.
Are battery powered heated vests waterproof?
Some are, others are not. That depends on the materials used. Fleece vests aren't waterproof. Whereas most other vests are both waterproof and windproof. Look for these features in the original listing of the product.
Conclusion
The vests on this list are great for avoiding cold in the winter. It is an excellent product to keep your core warm. Now, that you are aware of the best heated vests on the market, what will be your choice for the next adventure?
While each of the featured vests is an excellent product, I recommend you to look for a product that matches your needs the best. Each of us are different. Therefore, there is not a single answer as to which vest is the best one for you. I hope my guide helped you to choose the perfect match for your needs. Thanks for tuning in.